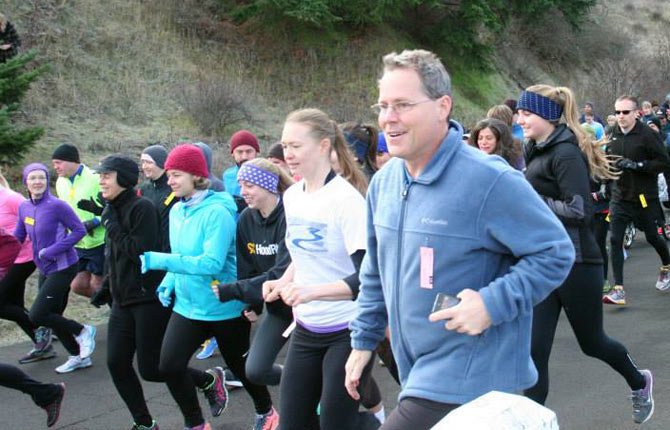 Any time an event draws more than 300 harriers, it can be deemed a rousing success story.
Such was the case for last week's Mosier Twin Tunnels 3k, 5k and 12k Turkey Trot at the Historic Columbia River Highway in Hood River.
Of the three divisions competing, the 5k race saw the closest times in order of finish.
Coby Eastwood chugged out a final marker of 17 minutes and 22 seconds to grab first place, finishing nearly a minute and a half better than The Dalles' Ben Iremonger, who crossed the tape in 18:47.
Sam Johnson scored an 18:50, Randall Jones had a 19:08, and Justin Crosswhite rounded out the top-5 with his tally of 19:30.
As close as the men's race turned out, the women's side of the course saw Katie Scheer, Jessica Whitney and three others separated by a minute.
Scheer earned bragging rights on this day with her time of 22:12, and Whitney motored home in 22:54 for second place.
Holly Higdon (23:16) placed fifth, Kasey Kallevig (23:20) garnered a sixth, Betsy Petrick added a seventh in 23:22.
In the men's 3k run, Carlos Chairez was hardly a match for a group of 20 racers, as he scooted home in 10:58, a time of more than four minutes better than Allan McKeraghan, who marched in at 15:10.
Bryne Anderson (15:11), Zach Marble (16:08), Rex Cordell (17:17), Josh Mesa (18:19), and Moses Mesa (18:29) capped the top-8.
There were 17 women's runners pegged for running the 3k classification with an even spread.
Rosalie Dillon hustled through in 16:31, and next up was Sara Cordell, who crossed the wire in 17:21.
Sherrie Austin came home in 20:44 for third place, Maggie Corey came in fourth place in 20:46, and the duo of Clara Solomon and Julia Solomon ended up tied for fifth in 21:10.
Charlie Remington, of The Dalles, showed he is still flying tall for first place in the 12k with a 44:18.
Andy Redden (44:43), Ricardo Castillo (46:55) and Nils Engbersen (47:07), Chad Swanson (47:13), Philip Evans (47:42) and Patrick Hiller (49:11) were all in the top-7.
There were 37 men locked in for the 12k event, and 42 women lined up for racing at longer distances.
Taking home good marks in this race was Sascha Bockius, who managed to strut home in 46:57.
Mary-Beth Guenther (49:35), Jenny Balcom (54:26), Hilary Redden (55:41), Greta Zajaino (56:02) and Rosie Aboi-Toly capped the top-6.
For information on upcoming running events, call 541-993-2090.