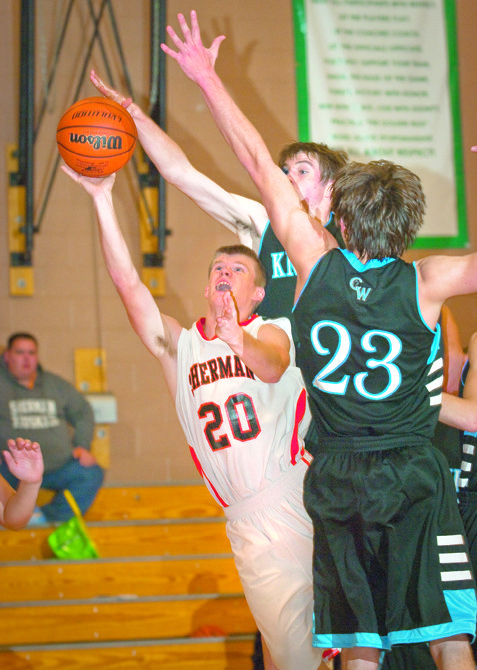 Sherman's first-year head coach Bill Blevins is bringing in an intriguing new change to the Husky basketball program with hopes of getting this group back to the successful run it had in year's past.
The personnel is there, and with further development and execution, those days could come sooner rather than later.
"I am excited for this opportunity," Blevins said. "This is a great group of athletes that love the game of basketball. I see a ton of potential, so as long we put in a consistent effort, we can be a pretty successful team."
With any new coach, Blevins has an experienced senior trio of Nick Coleman, Cody Jauken and Ben Holliday to build around, as he teaches his new offensive and defensive philosophies.
Coleman takes his usual steady role as point guard, while Holliday brings an all-around intangible to the guard and forward positions.
Jauken operates the interior, bringing his toughness and rebounding ability to the forefront.
As far as consistent scoring is concerned, the Huskies have to make up for the loss of leading scorer Jailin Conboy.
Blevins has just the right person to shoulder the load in 6-foot-3 inch junior Austin Kaseberg.
"We have kids who can hit the outside shot, and we have those that drive the lane pretty well," Blevins said. "It is important to have versatility when it comes to offense. I think we have the players who can show those abilities."
Tyler Hendricksen is another of the five upperclassmen on the roster for a team that will highlight three sophomores and five freshmen.
Sophomores Alex Fields, Luke Lawrence and Wyatt Stutzman solidify the wing positions, and youngsters Maverick Winslow, Isaiah Coles, Anthony Lloyd, Max Martin and Kyle Fields round out the roster.
Last year in middle school, this squad cruised to a 15-0 record, so they should acclimate themselves well to the varsity stage.
"So far, I am very impressed from what I have seen from our youngsters," Blevins said. "They have an understanding of the game that is years ahead of other younger players. They know what I want of them as a ballplayer, so our job is to coach them every day to prepare them for the coming season."
For the past few years, the Huskies have been known as a fast-paced offense that scored in excess of 60-80 points a game on any given night. Last season, Sherman finished eighth in the state, averaging 60.9 points a game.
Blevins admitted that he does enjoy running, but would rather focus on making the sure plays.
"I would like to run. I want to also take care of the ball and not turn it over and execute in transition," the Husky coach said. "I know that the harder you run, the more apt you are to turn the ball over sometimes, so I want them to play under control and play within themselves."
If the Huskies plan to take their game to that next level, defense is high on the priority list.
Last year, the Huskies ranked in the middle of the pack in allowing 57.5 points a game. When they gave up 60 or fewer points, the Huskies were 13-1.
At this point in the season, Blevins said the defense has yet to catch up to the offense, but he has seen some positive glimpses on that end of the court.
"We hope to be better on that end as the season goes on," the Husky coach said. "As I am preparing them, I am preparing them for full court, for half court, for straight up and for zone (defenses). We will try to use different things out there, so we that we can find something that will work for us through the season."
The 1986 David Douglas High School graduate, comes by way of Pacific University where he played football and basketball until graduating in 1990.
From there, he coached at David Douglas and at Sisters.
Just three months into his reign as coach in Moro, Blevins has been thankful for the outpouring of support from the community.
One thing the fans will enjoy is an exciting brand of basketball this winter.
"Our emphasis is on how we are we going to improve every day and get better," Blevins said. "We need to work hard and come out focused. If we do that, the record will take care of itself."
Sherman hosts its annual two-day Invitational Tournament at 3 p.m. Friday.