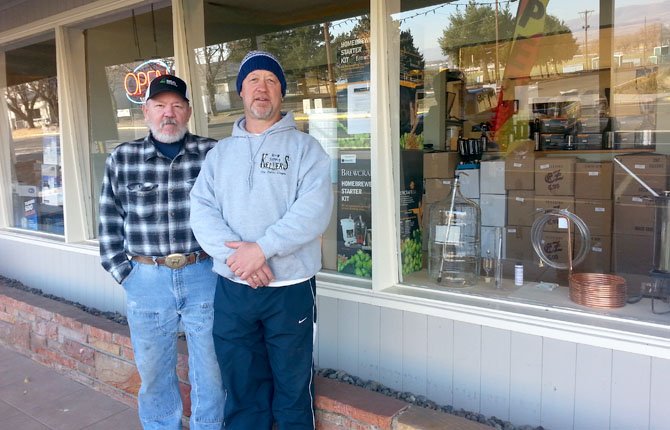 The Dalles — Larry Keller can't complain about the growth his company, Keller's Brew Supply, has seen since it started two years ago.
It has grown enough to allow the business to move from a small space tucked away in the commercial building at 1800 W. 10th St. to the large main showroom.
"Once you brew your own and taste the flavors, you get hooked," Keller said at his opening. "You can critique what you make and you can make it hoppier or maltier — that's what's fun about it."
Farris and Keller set out to create a local, competitively priced brewing supply shop to save time and money for local brewers, but they've found the definition of "local" has stretched a bit.
"We're just getting a bigger spectrum of people — people from White Salmon, Lyle, Goldendale, Maupin and Hood River," Keller said. "We figured it's time to step it up. We have expanded our inventory."
Keller and his partner Rick Farris promise "everything you need to brew a good beer."
In addition to having control over beer flavor, Farris said home brewing can be more economical than ready-made. After equipment is purchased, the cost can be between 50 cents and $1 a bottle.
It's also not a huge time investment, Farris noted — two or three hours for sterilizing equipment, cooking and putting in the fermenter, then after fermentation an hour or so to bottle 48 bottles. The wait in between helps build anticipation.
They'll also be celebrating their two-year anniversary and their storefront opening with an open house Saturday, Dec. 7, from 10 a.m. to 5:30 p.m.
"We're going to do hotdogs, desserts, home-baked breads and other refreshments," Keller said. The event is in recognition of the loyalty and support customers have shown since the store opened.
Keller's has expanded its in-stock ingredients selection. "We've got more varieties of grains," he said. "We're brought in British, German and all sorts of different types of grains to provide more of a variety. The same with the hops. We've got 30 different types of hops now."
Keller's Brew Supply will continue its grand opening-anniversary celebration through Dec. 21.
Keller's Brew Supply is open Tuesday through Saturday, from 10 a.m. to 5:30 p.m.