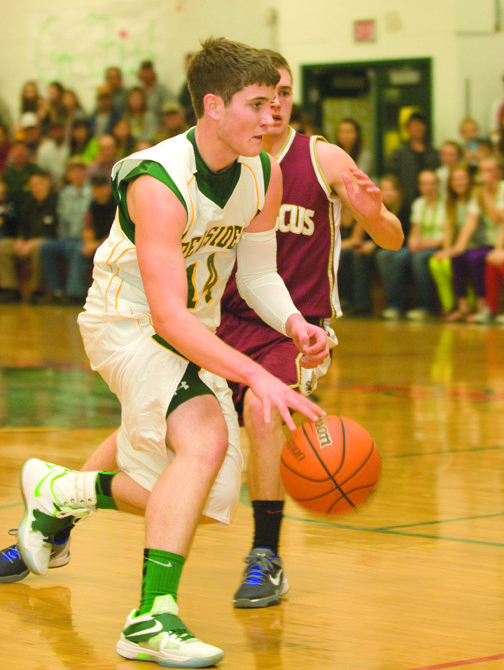 It has been a long off-season for the South Wasco County Redsides.
With the memories of last year's state playoff loss to country Christian in the rearview mirror, the three seniors, David Ocacio, Nathan Duling and Tucker Nannini have demonstrated leadership and stability to a roster that is optimistic of continuing its rise in the 1A ranks with a slot in the Elite 8 in Baker City.
"They have set the tone that we are going to work hard this year," said Redside head coach Jim Hull of his veteran trio. "So far, everything looks pretty promising. I can tell these kids have spent a lot of time working to improve from last season to this one. The kids are buying into what we are doing here and having a lot of fun."
In the past three seasons, South Wasco County has improved on its win totals, going from seven to 14 and 21 in 2012-2013.
The Redsides had a ranking as high as No. 3 in a season where they advanced all the way to the Big Sky Conference championship and won their opening state sub-round contest at home.
South Wasco County was 41.1 seconds away from earning their first Baker City state berth since the 2008-2009 campaign, but fell short in a 50-47 loss last February.
Now they have set a bar in building towards the bigger picture.
"We pretty much learned that if we can get teams to play our style of ball, we can be in a game with anybody," Hull said. "We need to continue to play with confidence and we want to be the aggressor. If we are and we are shooting pretty freely, we can accomplish a lot. We just have to keep at it. We want this to be a continuation of what we were able to last year, especially with all of our returners."
Ocacio is the Redsides' leading scorer and playmaker, and Hull has seen the first team all-leaguer make more strides this off-season.
He can still use his speed to lock down defensively, drive to the hole and knock down shots from 25-feet.
"David has shown the natural progression of a player that is older, stronger and even more confident in what he can do," Hull said. "He does a good job of involving others, and is real good about distributing the ball to an open teammate."
Helping Ocacio on the scoring front will be fellow guards Travis Hayes, Colby Crowell, Devan Dammann, Colton Nannini and Brody Myers.
Last year, the Redsides ranked 11th in the state in scoring at 58.8 point a game, hitting as high as 67 points or more 11 times, including a season-high 90 in a 36-point win over Nixyaawii.
For all the production the backcourt gives to Hull and the Redsides, the bigger question is replacing the output of graduated senior post, Wyatt Creel.
All fingers point to Loreto Morelli filling that role on the floor, as Hull said his junior forward has grown to 6-foot-4 inches and more than 20 pounds heavier.
"We would like to see him flourish in that role," Hull said. "He is dynamic athletically and can contribute on both sides of the floor."
Morelli is not the only big body Hull can throw under the basket – with Tucker Nannini, Ellis Rager, Christian Brown and Duling, he has plenty of options to pick and choose from.
While Duling is a 6-footer, Hull has plans to use him all over the hardwood, whether at guard, forward or post.
No matter who is on the court, any of the five have the potential to score points, especially in this system.
Of the 70 teams in the 1A classification last year, SWC ranked 23rd in team defense at 47.6 points surrendered a contest.
With the added athleticism, the Redsides were able to hold opposing teams to 40 points or less eight times, using defensive pressure and trapping to force turnovers and create fast break chances.
"Our defense can shut down teams when we are clicking," Hull said. "We want to get the other team making the mistakes and getting off their game. When our guards are out their wreaking havoc, we are at our best. We want to continue that when we have the chance."
Hull said that one of the things that had been best for the program's success is continuity – these athletes know what to expect and that is important in their coach's eyes.
The Redsides have punched playoff tickets several times in Hull's 12-year tenure, last time making it to Baker City in the 2008-2009 campaign.
If they plan to get over that hump, the Redsides must contend with an always-talented Big Sky Conference, where teams like Horizon Christian, Sherman, Dufur, Condon-Wheeler and Ione are waiting in the wings to give it their best shots.
"The Big Sky is going to be battle again. I think playing in this conference is the reason why we were able to do so well in the playoffs last year," Hull said. "Every night is a battle and when every night is a battle, you are ready for the tough games."
SWC hosts its annual Redside Hoops Tournament at 4:30 p.m. Friday, before ending the weekend with another game, depending on the outcome.