The Bulletin, Dec. 3, on irrigation regulations and onions
If onions, not the green ones but the ones suited for burgers, stews and soups, are a part of your diet, you have a stake in the current effort to persuade the federal Food and Drug Administration to change proposed regulations about irrigating those onions. Even if you skip the onions, you have a stake: They're an important part of this state's agricultural economy.
Farmers in Eastern Oregon and Idaho grow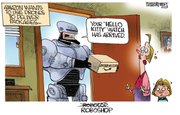 about a quarter of the bulb onions — the ones with a papery skin on the outside — sold in this country. They irrigate their crops with surface water, which is more likely to be tainted with E. coli than well water would be.
Now the FDA, working to put new fresh produce safety rules in place, has proposed water cleanliness standards that would make growing onions here too expensive to be feasible.
The agency has reason to be concerned about food-borne illnesses such as E. coli infection, particularly on things like lettuce, spinach and cantaloupe, which are generally served raw.
They can pick up E. coli bacteria from irrigation water as well as from improper handling in the field and elsewhere. And while the FDA cannot assure proper handling 100 percent of the time, it hopes strict new rules on irrigation water will help.
All that makes perfect sense — to a point. But bulb onions, while they can be eaten raw, are not handled the way lettuce is, and the difference is crucial. Bulb onions, you see, are cured in the field before they're ever sent to market, a process that an Oregon State University scientist has found leaves the onions E. coli free. In addition, the papery outer skin is virtually always removed before the onions are eaten.
The FDA has gotten plenty of pushback from onion growers on the proposed changes, so much so that it is accepting comments on them even after its Nov. 22 deadline — though it's unclear if a second formal comment period is what the agency has in mind.
That's good news. Onion growers have science on their side, and they need to be given time to make their case to the FDA.
n
Albany Democrat-Herald, Dec. 2, on Oregon's educational reforms:
Oregon's attempts to reform its educational system — from preschool all the way through college — hit a bit of a speed bump last week.
The Obama administration notified state education officials that it was standing by an earlier determination that Oregon is at risk of failing to comply with its waiver from the federal "No Child Left Behind" education law.
That follows an August announcement from the U.S. Department of Education that the state was at "high risk" of losing its waiver because the state has not fulfilled a promise to bring teacher and principal evaluation systems up to federal standards. According to a story from The Associated Press, Oregon officials asked the administration to drop the high-risk label, noting that they were making efforts to comply with the federal mandates. But in a letter last week, the administration rejected the request.
This has the potential to be a big deal, unless the state can persuade the administration to back off. The waiver from the No Child Left Behind law has freed up some room in which Gov. John Kitzhaber and his staff can attempt their far-reaching educational reforms.
If the state fails to convince federal officials it has met the waiver requirements, it might have to return to the original federal rules that require every school and every district to meet a group of benchmarks for students in various ethnic and economic groups.
The sticking point has been Oregon's delay in adopting a statewide method for including student growth as a significant factor in its teacher and principal evaluations.
State officials have said they have no interest in creating a system that evaluates teachers primarily on the basis of standardized test results — one of the big knocks against No Child Left Behind. More than two dozen school districts have been piloting different approaches, and the state Education Department will evaluate the results and make a recommendation to the federal government by May 1.
We like the state's approach considerably more than the one-size-fits-all approach laid out in No Child Left Behind. But the onus now is on state educational officials to persuade a skeptical federal government that their approach makes the most sense for Oregon students and teachers — and to keep giving Oregon the space it needs for its educational reforms to take root.