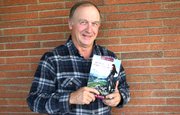 Mike Davis lived all over the world during his long business career, but when he returned home to Tygh Valley after the death of his parents, he discovered he had a story to tell.
"I left, went to college and never came back," said Davis, who started manufacturing plants in China, worked with governments in Turkey and Macedonia and taught at a U.S. embassy in South America before returning to try to make a go of it on the family ranch.
Book's cinematic trailer premiers at Discovery Center
Author I.M. "Mike" Davis will premier a brief film based on his new book, "Polly: The Mystery of Bonney's Canyon." Davis will be in the Murdock Theater from 12:30 to 1:30 p.m. and will also read from his book.
The novel is historical fiction that was inspired by the life of his great-grandmother, Polly O'Neal-Davis who settled in Tygh Valley. The author and actors will be available for poster autographs.
Davis is the fifth generation of his family to live in Tygh Valley. His ancestors settled in the area in 1860, among the flood of emigrants who traveled the Oregon Trail. "The Mystery of Bonney's Canyon" is loosely based on the life of his great-grandmother, Polly O'Neal Davis, who is buried in The Dalles.
"There were a lot of myths and stories around my great-grandmother," Davis said. "This is a fictional novel, loosely based on that history and background — loosely based on life. A lot, I'm sure, is not true."
Though part of the story is set along the Oregon Trail, "Bonney's Canyon" is not a pioneer story, Davis stresses. Instead, he describes it as women's fiction.
"The main character is a young lady who has gone through a traumatic event and is bent on revenge," Davis said. "She finds herself through that process."
The book is based in two time periods, the 1860s and modern times where Polly's great-great-granddaughter, Siobhan, is experiencing her own tragedy and struggling to recover while her dying father talks about the "family curse" for which he blames Polly.
Polly claimed her mother, Sarah, was killed on the trail when a widow with an eye for her husband fed her some peaches tainted with botulism. The woman, Ada, married her father, Patrick, and part of the story is set at their homestead. But that isn't the main reason for Polly's obsession with revenge.
Davis bases the story on a three-year period of time in Polly's life for which the family has no documentation. The fictional story is Davis' speculation of what may have occurred.
The story isn't for children, or even young adolescents, Davis said.
"There's an assault in it and while it's not detailed, it's disturbing — and it's meant to be," he said.
Davis says he envisions the book's chapters in his head as scenes in a movie. He has already started work on the next book and has envisioned the story for a third.
Though the book hasn't yet been officially published — Davis has had a limited number of readers copies published — it has spurred some cinematic inspiration. Professional director Randy Sellers liked the book so well that he gathered a group of film professionals and persuaded Davis to let him film a five-minute cinematic trailer of the story at the ranch, the first of its kind, Davis said.
"Almost 20 people were on the ranch for seven days," he said. "It was seven days of insanity."
Davis' wife, Laila, made sure the cast and crew was well-fed and the place was clean. Friends and neighbors also played a role.
"The local postmistress created Ada's dress from scratch in one evening," he said. "A local farmer and our friends John and Diana McElheran worked their tail off helping with everything and John even played 'Patrick' (the dead guy). I could go on and on. It was more than just a film, it was a memorable event where professionals of all walks got together with no personal agenda, but with a common goal and a personal love of their work."
The trailer will premier this Saturday, Dec. 7, at the Columbia Gorge Discovery Center's holiday open house (see sidebar). Davis will be on hand for the presentation.
Even though the book hasn't yet been published, Davis plans to give away the first three chapters to anyone who wants them and will continue to release chapters periodically until the book is published. He is setting up a website where people can sign up for the releases. Davis hopes people will like his first book enough to buy the second and third when they come out.
Anyone interested in receiving chapters may email Davis at imdavis@pollyadventures.com.