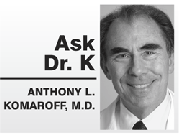 DEAR DOCTOR K: I'd like to start doing some core exercises. What do I need to know before I start?
DEAR READER: Core exercises should be a part of everyone's exercise routine. Committing to core work will improve your posture whether you're sitting, standing or moving. Try to do a variety of exercises that target all the core muscles.
Many people equate the core with their abdominal muscles, but your core is much more than that. It also includes muscles in your back, sides, pelvis and buttocks. These muscles are essential for movement. They help your body with everything from bending, twisting, lifting and carrying, to enhancing your balance and stability. Weak, tight or unbalanced core muscles can undermine the ease and power of everyday motions.
When performing core exercises, it's important to have good form. Good form involves proper posture and alignment. When instructions for core exercises ask you to stand up straight, that means:
— chin parallel to the floor;
— shoulders even (roll them up, back and down to help achieve this);
— arms at your sides, elbows relaxed and even;
— abdominal muscles pulled in;
— hips even;
— knees even and pointing straight ahead;
— feet pointing straight ahead;
— body weight evenly distributed on both feet.
Quick posture checks before and during exercise can help you avoid injury and squeeze the most benefit from your workout. If possible, look in a mirror when exercising.
Another instruction you're likely to encounter is to "stay neutral." Whether you're standing or seated, neutral posture means keeping your chin parallel to the floor; your shoulders, hips and knees at even heights; and your knees and feet pointing straight ahead. A neutral spine means the back is straight except for the slight natural curves of the spine. It is not flexed or arched. And neutral alignment means keeping your body in a straight line from head to toe (again, except for the spine's natural curves).
To get you started, I've put descriptions and illustrations of a few core exercises on my website, AskDoctorK.com.
Core exercises not only protect you from injury and improve your posture, they also are used to treat various problems with the bones and muscles. For example, they often are used as part of an exercise program to treat chronic low back pain. Some scientific trials have found core exercises effective for this purpose; other studies have been inconclusive.
In any event, don't forget to make core exercises a part of your regular exercise program. They can protect you from the aches and pains that come from injuries to the muscles, tendons and ligaments, which become more easily injured as we age.
Dr. Komaroff is a physician and professor at Harvard Medical School. To send questions, go to AskDoctorK.com, or write: Ask Doctor K, 10 Shattuck St., Second Floor, Boston, MA 02115.