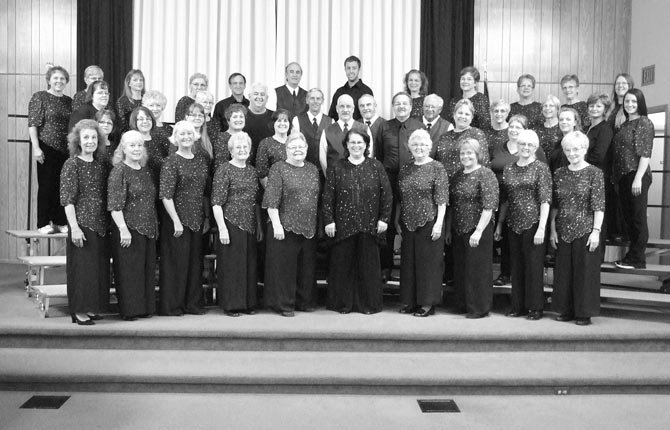 The Dalles Worship Choir is preparing for its 11th annual series of concerts at area churches, which will begin tonight at First Christian Church at 7 p.m.
The choir, under the direction of Shawn Lutz, consists of about 55 members from 11 area churches. The majority of the choir has been singing since the first concert series in 2003, Lutz said.
Lutz had a vision of a 50-plus voice choir in her home church at First Christian but then realized that several other churches in town did not have choirs and that other people might like to sing.
So she opened the invitation for others to come and sing with her church choir.
The concert series this year is entitled "The Night the Angels Sang."
"It is a powerful and celebratory 60-minute Christmas musical, specifically designed for a choir committed to communicating and ministering to their community through the use of energetic and passionate praise and worship music," she said.
Soloists include Dick Brown, Colleen Worrell, Kay Pratt, Chris Miller, Sandy Peterson, Kevin Reilly and Lutz.

Narratives will be done by Heidi Talbott, Jennifer Ashley, and Caitlan Snow.
The next concert is Sunday, Dec. 8 at 5:30 p.m. at Gateway Presbyterian, and the final two concerts are Friday, Dec.13 at 7 p.m. at Calvary Baptist Church and Sunday, Dec. 15 at 5:30 p.m. at Covenant Christian Community.
An offering will be taken at each concert to further this ministry.

New this year is a comical seven-minute video created by and staring Heidi Talbott, who takes on the character of Roseanne Roseannadanna, a character made famous by Gilda Radner on Saturday Night Live.
Talbott plays an angel who is serving as a newscaster to relay the news about the birth of Jesus Christ. "She's been asked to tell everybody the savior's been born and the mishaps that happen along the way," Lutz said.
The video was screened earlier this week to the choir and got big laughs, Lutz said.
The narratives chosen for the concert change each year, and Lutz buys them from a Christian website.
"The gal that's doing the Mary narrative is a 15-year-old freshman in high school, Caitlan Snow, and she's never done this before so it's all new to her. And Jennifer Ashley is just doing a short little narrative at the very end of the concert."
Her narrative "leads us from Christmas time into Jesus dying on the cross and he did this for all of us. We started out with the fun music and stuff but it really leads us to the cross of Jesus," Lutz said.
The dozen songs in the concert include four new songs this year, and the rest will be familiar to those who have gone to the concert before.
And many have, Lutz has discovered. Last year, she kept hearing from people that they were making the concert a holiday tradition.
"I have heard time and time again now that people are making a tradition of this each year. And that kind of blows me away because I don't do it for that, I just do it because I love it," she said.
"It kind of blows me away that the churches are full, every year. Over the four concerts we do, we get close to about 800 people total, so it's kind of becoming a big deal, kind of more than I had anticipated when I first started doing it," she said. "It's so much fun, it's a lot of work, but it really is fun."
The choir began practicing in mid-September, and Lutz started her own preparatory work back in May.
She also had a special person she wanted to thank: "My husband Mike has been running sound for us since the beginning and I could not be doing this without him beside me. So we got into this together knowing that it's going to be a commitment that we do together."