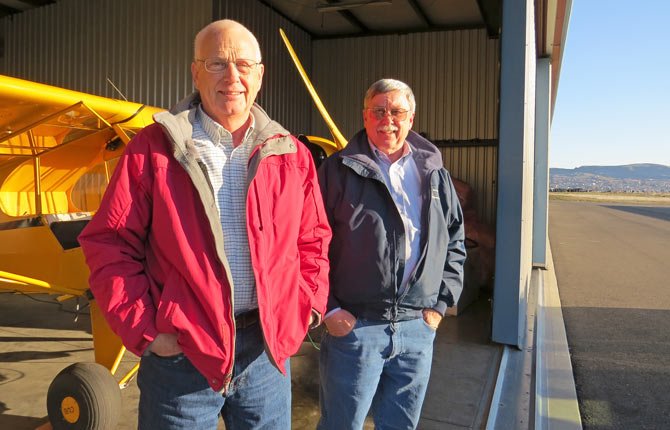 Two managers say that development of the Columbia Gorge Regional Airport is an example of what can be achieved when public agencies from two states and the federal government work together.
"When we fly around Oregon and look at different airports, we are very pleased at what has been accomplished here by the city, county, states and FAA (Federal Aviation Administration)," said Chuck Covert, who has been working on airport improvements since 1990.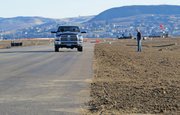 Granite Construction is putting the final touches on the new $2.2 million taxiway at the airfield in Dallesport this week. And $1.2 million of infrastructure upgrades will get underway Monday as Tapani Construction of Vancouver creates 17 "shovel ready" lots on 35 acres of the business park.
That construction is made possible by a partnership between The Dalles and Klickitat County, as owners of the airfield, and the Dallesport Water District. The Port of The Dalles provided a $125,000 loan for water system upgrades and the district took out a $500,000 loan to make improvements that will accommodate fire sprinklers and other service needs for years to come.
"This is very, very rare. I don't think I can find another one [bi-state operation] out there," said Rolf Anderson of Aeronautical Management, Inc., which operates the facilities in Dallesport.
Aiport funding
The operational budget for the airport is about $200,000 per year and offset by fees paid for rental of 51 hangars, parking space for another 10-15 planes and fuel sales.
Revenue is also gained through a lease of land by Skyline Hospital for an ambulance garage, Advanced Navigation Positioning Corporation and American Aerospace Engineering, LLC. Sherar's Sprayers leases land, as does LifeFlight, which also rents a hanger to house a helicopter. The air ambulance service is getting ready to build larger quarters so a plane used for emergencies can also be stored inside.
About 50 acres is leased to the Bonneville Power Administration to store equipment being used for construction of a new high voltage power line. That will allow energy to move from east of the Cascade Mountains to large population centers in the western sector of Oregon and Washington.
He works with Covert, co-owner of the NAPA store in The Dalles, and Brett Zefting, the airport's flight instructor.
"We have strong support here and we have to produce results to maintain that support," said Covert.
Anderson said the expansion of facilities taking place today on the 1,000-acre property is the result of determination by officials from Oregon and Washington to keep the airport from shutting down more than two decades ago.
At that time, the City of The Dalles was experiencing budget constraints that left little funding for modernization of the airport. The municipal government had taken over the landing strip in 1941 that had been built by the U.S. Army Corps of Engineers as an emergency stop for medium-sized bombers during World War II.
The answer to The Dalles' financial dilemma regarding the airport was solved when Klickitat County agreed to become a partner and split operational costs. A commission was formed with representatives from both sides of the Columbia River to plan and make recommendations for improvements.
The commission is currently chaired by Jim Wilcox, former mayor of The Dalles, and includes these members: David Griffith, port commissioner from The Dalles; Dave Sauter, chair of the Klickitat County Commission; Terry Trapp, citizen representative from The Dalles ; Norm Deo, citizen from Klickitat; and Debra Turner, also a Klickitat resident.
The commission completed a 10-year master plan to guide development in 2012, which set the stage for an investment of FAA funding for major work.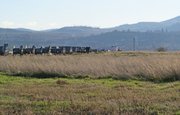 The federal agency and Connect Oregon provided about $5 million to strengthen the main landing strip last year so that it can handle the weight of larger planes. The runway is now 5,097 feet long and 100-feet wide and can hold 60,000-70,000 pounds instead of the previous 12,000.
In addition, Granite Construction, the Dallesport-based firm hired as the lead contractor for the project, shaved off a six-foot "hump" in the center of the runway that prevented pilots from seeing what was happening at the other end.
One day Covert hopes to see the landing strip extended to 6,500 feet so it can be used by even larger aircraft.
There is also a second runway at the airport of 4,647 feet and the third has been turned into a staging area for fire crews during emergencies. The large paved area also serves as a training site for emergency responders to learn how to maneuver vehicles at higher speeds.
Both available runways offer pilots a guidance system that signals them about placement and how high they are flying, making it possible for them to land safely during cloudy or foggy weather conditions.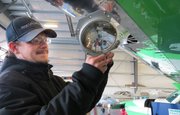 To help pilots meet inspection requirements, Centrex Construction of Aurora completed a new maintenance hangar in November 2012, a $250,000 project funded by a loan from Klickitat County. The enlarged facility allows mechanic Nick Breznay to work in an enclosed and heated work space and provides hangar space for larger planes.
As a result of the continuing upgrades, the airport can now accommodate the travel needs of Google, Insitu and Cardinal Glass, as well as other gorge companies. Officials believe the airport is now poised to attract new businesses into the park that have ties to aviation or want the convenience of flight nearby.
"We think we have a good opportunity to support UAV (Unmanned Aerial Vehicle) business in the gorge and we already have some interest in that area," said Anderson, who has been with the management company for eight years.
The first lots are expected to be completed by June 2014 and half of the $1.2 million cost is paid by grant funds from Washington state and the half loaned. Somewhere in the future, officials hope to add another 100 lots to the business park, which is a total of 250 acres.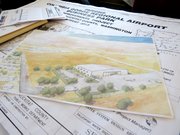 The Dalles and Klickitat will begin building a flexible space structure of about 15,000 square feet in the business park next spring at a cost of $1.25 million. Funding for the project is being provided by $1 million in grant funds from Washington and a $250,000 investment by Klickitat County.
Covert said it can be time-consuming to work out archeological and environmental issues to get a new process underway – the business park took seven years to come to fruition – but the wait is worth it. He said Dallesport has become the only landing strip in the region with instrument approaches, which is increasing its usage.
"We are seeing more and more business planes here bringing in visitors and hunters," he said.
On Covert's list for future improvements is the terminal that is now more than 70 years old and lacks meeting space. That building is home to the Concourse Restaurant that is owned and managed by Barb Rouch, who provides a complimentary meal to anyone coming through in a military uniform.