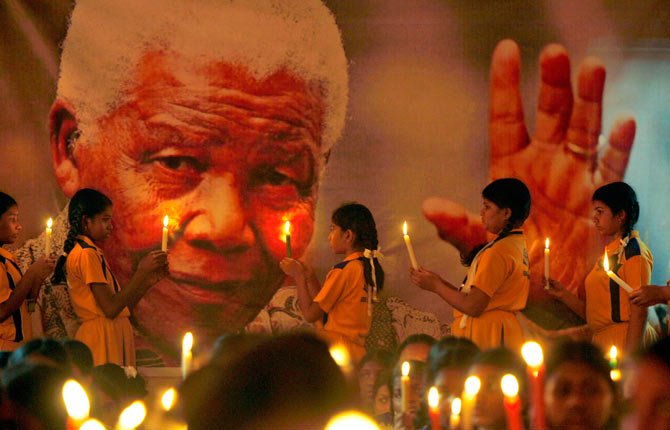 Perhaps one of the most famous old testament stories is that of King Solomon and the baby.
When two women both sought the king's judgment, both claiming to be the child's mother, Solomon determined the only fair way to decide was to cleave the child in two so that each could have half.
Solomon determined that the woman who pleaded for him to spare the child even if it went to the other woman had the true maternal feelings.
This week we mourn another leader who showed true wisdom in the face of the temptations of power.
Nelson Mandela, who died Dec. 5 at age 95, helped wrest South Africa from the dark days of apartheid, the cruel system of white minority rule. But when Mandela was freed from the white-run South African prisons where he had spent most of his adult life, he did what other leaders of nations in revolt against colonial occupiers have failed to do.
As author and journalist Louise Branson outlined in USA Today: He worked with white President F.W. de Klerk to keep whites from fleeing and prevent a wave of racial violence.
The world has seen plenty of examples where the liberator has turned to oppressor: Uganda's Idi Amin, Zimbabwe's Robert Mugabe, Syria's Bashir al Assad, among others.
When he was democratically elected in his country's first multi-racial election, he appointed de Klerk his deputy and kept many whites in government, helping to promote a peaceful and stable transition despite the cries of others to exact revenge.
Then, after one term as president, he defied the temptations of enduring power and stepped down.
Wisdom of this depth is rare in the modern world and, in addition to all the other reasons, earned him the title of father of the modern South Africa. It has also earned him a revered place in the world as "a prophet and witness to justice," according to the Most Rev. Katharine Jefferts Schori, presiding bishop and primate of the Episcopal Church.
"God, thank you for the gift of Madiba," said retired archbishop Desmond Tutu, a compatriot of Mandela's and fellow Nobel laureate in the fight against apartheid, using Mandela's clan name, a sign of affection and deep respect.
While Mandela's story is ensconced in the South African history books and serves as an example of statesmanship the world over, the struggles of his country have grown as a result of poverty, violence, corruption and the plague of HIV/AIDS.
And South Africa is not alone in facing the challenges of bigotry and greed have violently destabilized some countries and threatens to do so in others. Those vices are alive and well in the United States, as well.
Mandela wisely said in one of his speeches, "To be free is not merely to cast off one's chains, but to live in a way that respects and enhances the freedom of others.
May we all learn from his words.