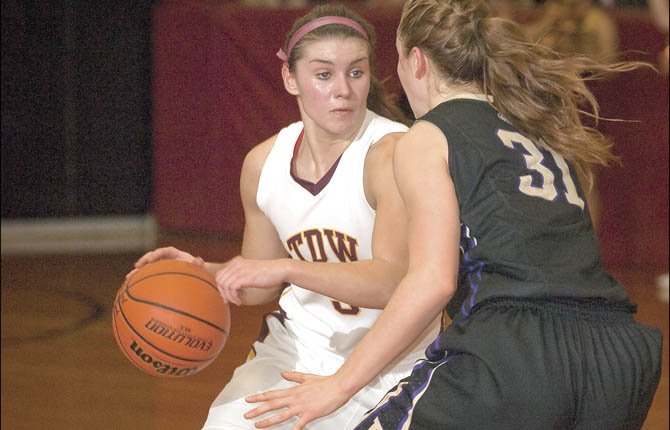 All it took was one look for Colorado School of Mines head coach Brittany Simpson to know that she wanted to build her program with The Dalles Wahtonka senior Emily Bailey as one of the building blocks.
Simpson knows Bailey will be a model citizen on and off the court, who will work hard in the classroom, in the weight room, in practice and in games.

The head coach said she admires Bailey's outlook on life, her attitude and body language.
Those intangibles made it a no-brainer for Simpson when it came to offering the Columbia River Conference's reigning Player of the Year a full scholarship to play hoops for the Division II Orediggers.
"What impressed me the most was how hard she worked and her physicality," said Simpson after seeing Bailey perform in Oregon City at the End of the Trail Tournament this past July. "I see her size and abilities translating very well to what we do here at Mines. She will be able to play probably a 2, 3, and 4 for us, giving us a couple of different lineups that we can run. When we play her on the perimeter, her size will be a huge advantage for us."
Bailey is more than excited for this opportunity to play the sport she loves on an athletic scholarship and get a top-flight education for her major of Environmental Engineering.
On her first steps on campus in Golden, Colo., Bailey knew almost immediately that CSM was the right fit for her.
"With Colorado School of Mines being one of the top schools in that area, I couldn't have found anything better," Bailey said. "The school offered me a great chance for more playing time and I felt CSM was the perfect size for me, small and in the rural area, but still having the opportunity of the city life of Denver whenever I want."
Just securing a scholarship to play hoops appeared to be a long shot for Bailey, who sustained a knee injury and underwent micro-fracture surgery in her sophomore season.
Through hours of rehabilitation and dedication, she played soccer in the final half of the 2012 season and scored first-team all-league honors in basketball along with Player of the Year status for her stout play on the basketball court later that winter.
"This definitely did not seem possible in the beginning," Bailey said. "It most certainly was a dream, but it just always felt a little out there. Of course, without my family pushing me and pushing me everyday, I couldn't have done it. No matter how pouty, or frustrated I was, they always tried to boost my positivity with those little reminders that it would be possible."
In addition to her solid family foundation and with the added encouraging words from other family, friends, coaches and teammates, Bailey dealt with her adversity the best way she could – knowing God has a master plan.
"Those days where just everything seemed to be going the wrong way, I had to remember that God has everything happen for a reason, and whatever obstacle He gave me, I knew I would come through a little stronger and everything would be alright," Bailey said. "And in the good times, all I need to do is to enjoy his presence and be grateful for what He gave me."
Last year, Bailey had monster games where she stuffed the stat sheet in every facet of the game, whether offensively or defensively.
All told, she averaged nine points, 6.7 rebounds, 2.5 blocks, five steals and 4.1 assists per game.
Even when teammate Anndria North suffered a season-ending knee injury, Bailey helped serve a role as point guard to add more to her versatility.
"She dominated in all areas of the game," said Tribe head coach Dan Telles. "Emily had to play a new position, but she went right in and moved the ball well and controlled the tempo. She has a great shot and she has a great ability to get her teammates involved."
Simpson is chomping at the bit to get Bailey on campus next fall.
She has already devised a game plan for her prized recruit with an emphasis on developing a more consistent 3-point and perimeter game.
Then there is the almighty question of balancing education with a social life and athletics.
"Well, academics are a big priority here at Mines," Simpson said. "Being such an elite institution on the academic side, it is a large factor in our recruiting. As far as maintaining balance with academics and basketball, we do a pretty good job of keeping everything in perspective. We try to relay to our kids that basketball is a release and a chance to get away from the demands of academics."
In Simpson's first year as head coach in 2012, the Orediggers had their first winning season since 2010 and earned the chance to play at the Rocky Mountain Athletic Conference Tournament, and added three all-conference players to the list.
Bailey hopes to add her name to that esteemed group of conference standouts, but the work is just about to begin.
"My confidence and ability to make a move and drive to the basket has definitely improved the most over my career," Bailey said. "My ball handling could always use some more practice, as also with my outside shooting. Both of these take major confidence. As the pressure of defense only gets more intense at the next level, I will need to dedicate myself to the gym and get my hands on the ball in the off-season as much as possible."