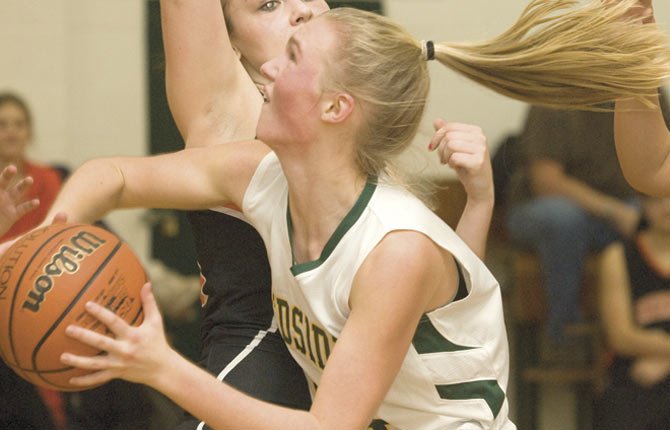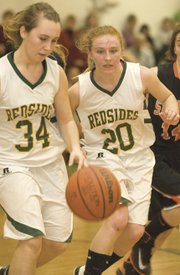 At the start of basketball camp, South Wasco County head coach Ron Townsend saw his numbers rise to a high of 22 players trying out for 12 varsity spots.
Since then, he said there has been an all-out blitz based on working on the fundamentals and getting in team preparation.
Good thing Townsend has an assistant coach and bevy of returning seniors to help the young athletes along so they hit the ground running during this winter campaign.
"Our returning players have been working extremely hard and showing great leadership," Townsend said. "We will be counting on them to carry us early as we work to develop others."
Part of that leadership effort rests on seniors Zoe Morelli, Joy Kelly, Sonya Schmitz and Jordan DiBartolo, along with junior standouts Roxanne O'Neal, Molly Foreaker and Lisa McNamara.
That core group is going to be looked upon to continue the Redsides' offensive continuity – a team that finished 23rd in the 67-team 1A classification at 40.9 points a game.
"We return our inside presence in Zoe, Joy and Molly, so we will hope they play well while we develop some of the younger players," Townsend said. "Zoe and Joy bring good size to this position and continue to improve their play.
"Early we will rely on this group as we develop our running game and our guard play."
Eight times last season, the Redsides scored 44 points or more, going an undefeated 8-0 when that happened. A few of those wins included a 44-43 home win over Ione and a 75-28 tournament triumph over Portland Waldorf.
If those averages are to improve, Townsend needs these extra practice sessions to further develop the games of many others competing for spots, including Peggy Espeland, Kyra Shannon, Shelby Moody, Paris McCartney, Tatum Hahn, Ashley Beavis, plus a handful of good freshmen.
"We have welcomed a good group of freshmen into the program this year and I am looking forward to the progress they make," Townsend said. "They work hard and are anxious to learn, some of them may see some varsity time as the season progresses. One of the neat things about coaching is watching the development of the younger players."
Among the players the Redsides need to replace is graduated point guard Rebecca Morelli.
Townsend said he will miss her overall play, but he hopes that he can cover that with several girls.
"Right now Roxanne is stepping up and doing a good job, but we have others such as Sonya, Jordan and Peggy [Espeland] who can fill in at the point position," Townsend said.
While the offense wound up in the upper half of the state, the defense posted even better numbers on defense, allowing 35.4 points a clip, good for 16th in the state.
There were seven times where SWC completely shut down the opposition to 22 points or fewer, plus two games where they gave up only six points (Spray) and eight points (Arlington).
With Kelly and Morelli as two 6-footers patrolling the interior, Townsend can tap some speedy guards to pressure the backcourt.
"We will be working on various defensive schemes as the season progresses to put the girls in the best position to succeed," Townsend said. "We hope to be able to put in play some form of pressure defense."
Known in coaching circles as a deliberate tactician, Townsend is at home in a teaching role with his players, merging hard work, dedication, attention to detail and fun as focal points.
If he can pencil in these underclassmen to take the torch from his seniors, then the program can continue its spree of recent successes.
"I am pleased with our progress so far, but at this time the returners are quite a bit ahead of our younger players," Townsend said. "Several of them have the potential to step up, but right now I do not know which will."
The Redsides boosted their win total from 10 in 2011-2012 up to 12 last season, ended up third in the Big Sky Conference and were one district playoff half away from punching a ticket into the state sub-rounds.
Now the goal is to ramp up the play a few extra notches to send off the seniors on the right foot, while creating a sense of accomplishment for an upcoming group of young athletes.
"Our returning players know how hard they have to work to succeed so they are really striving to set a great example for the rest of the girls," Townsend said. "Our success will be determined by how well we can develop some of our younger players. In the early season, we will be relying on the returners to carry us, and I have confidence that they will do a great job. I believe they have set some high goals, so will have to see if they can meet them."
SWC hosted its annual Redside Tournament this past weekend, and after that, they hit the road to take on Lyle-Wishram at 6 p.m. Tuesday.