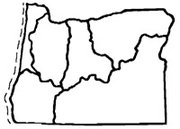 MARINE FISHING
Great White Shark Encounter Ends Well
Chris Hyde shared a great fishing story with ODFW of his encounter with "the Landlord" during a kayak fishing trip during a recent stretch of good weather last month.
"I was fishing off of Simpson's Reef near Charleston when I had my run in with a 13-foot great white.
"The last couple of days have been excellent bottom fishing. I launched my kayak out of Sunset Bay State Park and pedaled my Hobie Revo13 the one and a half miles out to the reef. I was on the fish as soon as I got out there. I couldn't keep the lingcod off! Every drop down I had an angry male on the end of my line in a matter of seconds. It was like this all morning.
"I took a break from catching a couple hours into my trip. I was eating a sandwich when I heard water moving behind me. I didn't think anything of it; I saw porpoises early that morning and I thought it was one of them or an inquisitive seal coming close for a better look. When I finally turned around to see what was behind me I saw a massive dorsal jutting out of the water about 10 feet behind my kayak. It took a second to register what I was seeing. Then I realized a huge great white was right on my tail and it was very interested in me.
"The great visibility made it possible to get a full view of this amazing creature. I wasn't sure what to do, I knew better than to make any sudden movements. I looked around to see if my fishing buddy was close by, but he was a couple hundred yards away fishing near some rocks. The closest power boat was about 100 yards away so I slowly started toward them.
"The shark followed me almost the entire distance to the power boat. When I got within earshot I yelled out to them to let them know what was going on. One of the guys on the boat said it was as long as my kayak. It disappeared just as I got near the boat and I never saw it again.
"I was pretty shaken by the encounter and I hung around the boat for a few minutes and talked with them while I collected my nerves. I decided to continue fishing. It was pretty spooked for the rest of the trip and constantly looked over my shoulder. The conditions were epic this weekend and I was having some of the best fishing I've had all year. The shark made it that much better! I regret not getting any pictures of the shark but I was busy eating a sandwich and surviving. Perhaps next time I'll snap a picture or two.
"There are many factors that probably contributed to the chance encounter. The fins on my drive system are bright red and probably look appealing from below. I had fish bleeding out on deck and the blood was draining through the scuppers. I was also throwing the heads from my bait overboard. I was no doubt chumming. It was not my intention! Reflecting on the situation, I really wasn't in danger. It's the shark you don't see that gets you!"
Chris recently started a Facebook group for his area called Coos Kayak Fishing.
Saltwater News Bulletins
You can subscribe to receive e-mails and text message alerts for marine topics you are interested in. To sign up go to http://dfw.state.or.us/MRP/bulletins/index.asp and enter your phone for text alerts and e-mail information to subscribe to email updates. It's easy to unsubscribe at any time. Your phone and e-mail information will remain confidential. Six different lists of interest to ocean enthusiasts are available: Bottomfish (recreational), Halibut (recreational), Ocean Salmon (recreational), Ocean Salmon (commercial troll), Commercial Nearshore Groundfish, and Marine Reserves.
Send us your fishing report
We'd love to hear about your recent fishing experience. Send us your own fishing report through ODFW Fishing Reports -- the information will be forwarded to the local biologist who may use it to update various ODFW resources such as the Weekly Recreation Report.
Marine Reserves
Prohibitions at Oregon's marine reserves at Redfish Rocks and Otter Rock are in effect. Fishing, crabbing, clamming, hunting and gathering seaweed are all prohibited. Beach walking, surfing, bird watching, diving and other non-extractive uses continue to be allowed. See complete details and a map of the boundaries of the reserves:
Redfish Rocks Marine Reserve and Marine Protected Area
BOTTOM FISHING
Fishing is good for bottom fish when the weather allows. Many anglers report limits of lingcod. This is the time of year they get ready to spawn.
Fishing for groundfish is open at all depths through March 31, 2014.
The cabezon season was originally scheduled to close Sept. 30. However, because the 2013 cabezon quota has not been reached, anglers will be able to keep cabezon through Dec. 31, 2013, or until the quota is met, whichever comes first.
The marine fish daily bag limit is seven fish, of which no more than one may be a cabezon. There are separate daily limits for lingcod (two) and flatfish other than Pacific halibut (25).
Remember: yelloweye rockfish and canary rockfish may not be retained.
The Stonewall Bank Yelloweye Rockfish Conservation Area, approximately 15 miles west of Newport, is closed to the take of rockfish, lingcod, flatfish and other species in the groundfish group.
OCEAN SALMON
The Elk River fall chinook (pdf) state waters terminal area recreational season will be open Nov. 1-30.
All other ocean salmon fishing in Oregon is closed for the remainder of 2013.
PACIFIC HALIBUT
Fishing for Pacific halibut in Oregon is closed for the remainder of 2013.
SHELLFISH
Razor clams
The entire Oregon coast is open for razor clamming.
A late afternoon and evening minus tide series begins on Nov. 30. For best results, clammers should pay close attention to surf forecasts and be on the beach one to two hours before low tide. If the forecast calls for combined seas over 8 or 10 feet, razor clam harvesting can be difficult because the clams tend to show much less in those conditions. When referencing tide tables, Clatsop beach razor clam harvesters should use the tide gauge at the Columbia River entrance.
Recreational shellfish safety status as of Dec. 3
As of Nov. 25 mussel harvesting is open from Cape Arago in Coos County to the California border.
All shellfish harvesting is open along the entire Oregon coast.
Due to potential biotoxins, consuming whole scallops is not recommended. However, a scallop's adductor muscle does not accumulate biotoxins and may be safe for consumption. Scallops are not being sampled for biotoxins at this time.
The Oregon Department of Agriculture's shellfish safety hotline is toll free and provides the most current information regarding shellfish safety closures. Please call the hotline before harvesting: 1-800-448-2474. Press 1 for biotoxin closures and 2 for general safety recommendations.
Check out the recreational shellfish pages on the ODFW website. The pages contain everything you need to know for identifying and harvesting Oregon's clams, including maps of individual estuaries that show where to crab and clam.
Crabs
Although bay crabbing has been slower than usual for this time of year, crabbers who put in enough time are going home with crab. The best months for bay crabbing in Oregon are August through November, although success usually declines after significant rainfall as estuary salinity drops.
The ODFW crabbing report shows average number of legal-sized Dungeness crab per person in various bays by month over the past year through September.
Crabbing in the ocean opened Dec. 1.