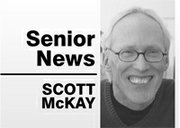 I know you've been around the ice block a few times, so you have heard how to stay safe in cold weather. But maybe just a few reminders might help to keep you upright and avoid falling — one of the major dangers during the cold and slippery winter months.
Wear proper footwear, stable shoes with good traction. Keep a shovel, salt and sand nearby to make your path to the car or mailbox accessible and safe. Carry a cell phone with a contact number for ICE, In Case of Emergency. Take it slow, no need to hurry. Ask for assistance, don't let pride goeth before a fall. Don't take chances. Even if the center and Meals-on-Wheels are open, don't come in if you think it is unsafe. Have a plan for whom to call if something does happen: a fall or the car won't start.
And don't ignore the everyday healthy habits during these cold winter months: eat nutritious foods, exercise moderately; get proper rest; and drink adequate amounts of liquids.
For those of us who haven't flown the coup to warmer climates, these are some common sense steps we can take to make sure the winter months are safe, enjoyable and full of good cheer with family and friends.
Daily exercise is good but spending hours shoveling snow can make a long day even longer. But this last Saturday, as Ron Sutherland was shoveling the center's parking lot, a crew of young people from the TOOL program at NORCOR came by with shovels in hand; and then a young man from Brace Brothers drove up on his hefty steed of a snow plowing machine and started plowing. Thanks to their generous help the parking lot is plowed and shoveled — but still slippery waiting for sunny skies and warmer temperatures to melt away the rest of the ice and snow.
Every third Monday and Tuesday, the center offers the AARP Driver Safety class taught by Dennis Davis. And it was just announced that Dennis was selected as the AARP Drivers Safety Volunteer Instructor for November — in the whole State of Oregon! I knew he was good, but not that good. You can sign up anytime by calling the center at 541-296-4788.
The Nu-2-U Shop has been picked up, put back down and spun around, cleaned up and ready to go for the holiday season with nice women's and some men's used clothing. But the Nu-2-U crew is telling me they are running low in good quality used clothing. So think of them while you are cleaning out the closet, making room for all your new Christmas gifts. You can drop off any unwanted clothing at the center on any weekday between 9 a.m. and 4 p.m.
On Tuesday, Dec. 17, Truman will be playing for your dancing and listening pleasure. Doors open at 6 p.m. and the music starts at 7. Everyone is welcome and donations are always appreciated.
"I Saw Mommy Kissing Santa Claus" was the Christmas classic that reached No. 1 in December of 1952. (The winner of a free Christmas Breakfast on Saturday, Dec. 21, is Morris Melton.)
Continuing the Christmas theme for this week's "Remember When" question, before Jim Carrey's Grinch stole Christmas, there was the television special of the children's classic, first shown on Dec. 18 1966. In this animated version, who was the voice of the Grinch (and also the narrator) playing one of his final roles?
E-mail your question to mcseniorcenter
@gmail.com, call 541-296-4788 or mail it with a copy of Mary Shelley's first novel.
"It's good to have an end to journey toward; but it's the journey that matters, in the end." Ursula LeGuin.
Menu
Wednesday (11) Pub Battered Fish
Thursday (12) Baked Potato Bar with Chili
Friday (13) Open Faced Hot Turkey Sandwich
Monday (16) Stroganoff over Noodles
Tuesday (17) Turkey and Dressing and Gravy