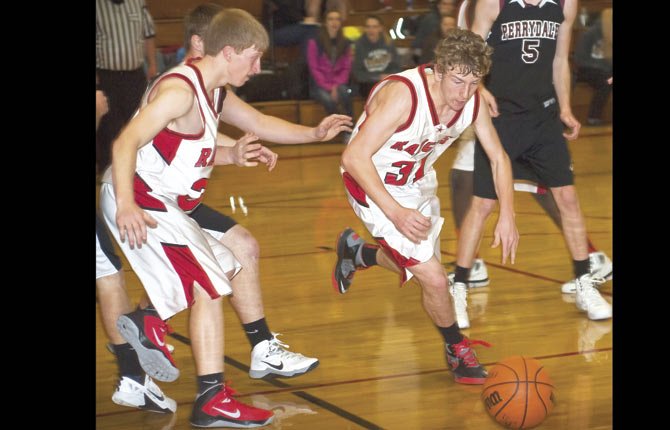 At this stage of the season, South Wasco County boy's basketball coach, Jim Hull, is working hard with his team on gaining an edge on the competition.
As long as they stay aggressive in all facets of the game, the Redsides should be on a good track.
SWC hit on 25 field goals, five from long distance, and they clanged home 5 of 14 from the charity stripe in its 71-60 loss to Crosshill Christian Saturday as part of the Redside Hoops Tournament in Maupin.
Part of that aggressiveness needs to be tempered a bit, as the Redsides had three players with three fouls in the opening half (25 total fouls called in the game). "We did not shoot well in first half and shot much better in the second half," said Hull. "You kind of anticipate that happening in your first game. They were a good team. They relied on two guys and they were able to get to the line quite a bit (19 of 25 for the game, the two guys combined for 18 for 22)."
Crosshill Christian led by seven points after one quarter, and enjoyed a double-digit advantage for most of the second half.
SWC made a move in the fourth frame, getting as close as six points, but could not dip any closer.
David Ocacio paced the Redside offense with a game-high 30 points, and Nathan Duling checked in with 12 points.
Loreto Morelli and Colton Nannini had five points each, and both Travis Hayes and Ellis Rager were good enough for three points.
Hull's goal is for his group to start playing at top form in January and February, so there is plenty of time afforded the Redsides.
"It is all about adapting," the coach said. "There is a certain amount of adapting we need to do. One of them is being aggressive and not being aggressive in the wrong way. We will get there. I think we are doing pretty well so far."
SWC (0-1 overall) traveled to Lyle for a non-league battle at 7:30 p.m. tonight.
Huskies stumble versus Crosshill
One day after giving new head coach Bill Blevins his first win of the 2013 season in a 68-62 thriller over Southwest Christian, the Sherman boy's basketball team fell behind early and could never get back to its winning ways in a 59-45 loss Saturday to Weston-McEwen in Day 2 of the Sherman Hoops Tournament in Moro.
The Tigers staked themselves to a double-digit cushion in the opening half, using outputs of 17-10 and 14-7 to go out in front by a 31-17 halftime margin.
Weston-McEwen added to its lead in the third quarter on a 15-13 rally, before the Huskies capped the scoring on a 15-13 flurry to close things out.
All told, the Huskies hit on 18 field goals, one from 3-point land, and hit 8 of 20 on free throws.
Freshman forward Isaiah Coles paced the Sherman offense with 12 points, Ben Holliday chipped in nine and another freshman, Max Martin, churned out an eight-point effort.
For a young team, Blevins still has a focus on the fundamentals and showing consistency.
"Last night we shot 90 from free throw line (in Sherman's win)," Blevins said. "There were points that we missed out on due to free throw percentages. We only made one three compared to four last night."
Sherman (1-1 overall) hosts Stanfield at 7:30 p.m. tonight, and then travels to take on Trout Lake for a 7:30 p.m. game on Friday.
Rangers find way to beat Pirates
The Dufur Rangers had solid guard play, and enjoyed great success with their perimeter game in a 60-35 victory over Perrydale Saturday in tournament hoops play Saturday in Dufur.
With much of the Rangers' attack an unknown quantity to start the season, several players contributed to the 60-point effort.
Even so, Jake Kortge (team-high 19 points), Austin Olson (8) and Bryson Caldwell (8) did a sound job down on the blocks had some top moments through the game, as Dufur had a 30-5 lead at the break.
"It was a great way for us to start the season. We came out ready to play," said first-year head coach Tony White. "We were the aggressors all game long and we took it to them." The onslaught continued in the second stanza, as the Rangers kept their pace with another 30 points.
Dufur (1-0 overall) next hosts Culver at 7:30 p.m. Friday.