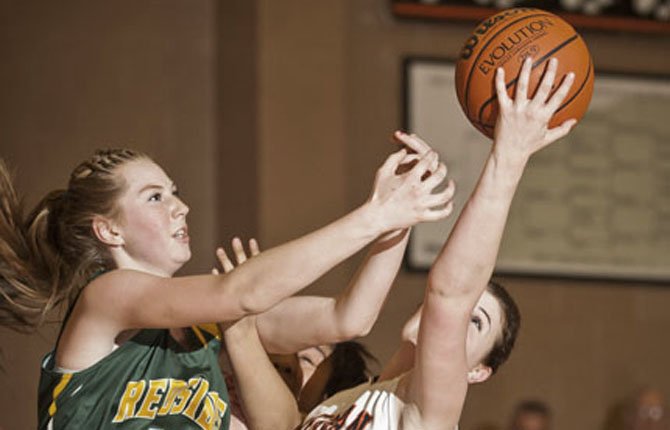 After losing in its season-opening game Friday to Hermiston's freshman team, the South Wasco county Redsides rebounded with a 44-point win Saturday to salvage a split in the annual Redside Hoops Tournament this past weekend in Maupin.
In the game, the Redsides broke open a 29-14 halftime advantage with a 42-13 run in the final two frames by tallies of 23-8 and 19-5 to cruise to a 71-27 win.
"We played much better today in all aspects of the game," said SWC head coach Ron Townsend. "We executed better both offensively and defensively, as well as shot much better from the line (17 for 29)."
In all, there were 11 players who hit the scoresheet, as the inside duo of Joy Kelly (16 points) and Zoe Morelli (13) combined for 29 points.
Jordan DiBartolo added 11 points, and teammates Molly Foreaker, Peggy Espeland and freshman guard Lyndsey Hull kicked in five points each.
On Friday afternoon, the Redsides started the season against Hermiston's freshman squad, and lost 39-33 to the Lady Bulldogs.
Hermiston jumped ahead early on with marks of 8-3 and 13-3 to lead 21-6 at the break.
Down by 15 points entering the second half, SWC dipped into that deficit with a 14-7 spurt to creep to within 28-20 with one quarter remaining.
Both teams capped the contest with 11 points apiece.
On the scoring sheet, Morelli led all scorers with 13 points, and Foreaker followed with 12 points from the floor.
Kelly rounded out the statistical leaders with eight points.
"We did not play well in the first half, but did pick up our play in the second half," Townsend said. "The first half would have looked better if we could have shot better from the free throw line, as we were 2 for 14 in that half and 7 for 23 for the game."
Hermiston ended up winning the tournament with a win over North Lake.
SWC (1-1 overall) travels to Lyle for a non-league tilt at 6 p.m. Tuesday.
After that, SWC hosts Portland Lutheran at 6 p.m.
Huskies split at own tournament
The Sherman Huskies have shown early in play that size matters when it comes to their ultimate success.
In two games, Sherman worked a split of two games, taking a seven-point win over Southwest Christian Friday, and then losing 66-16 to Weston-McEwen Saturday at the girl's Sherman Hoops Tournament in Moro.
Against Southwest Christian, Katie Poirier got off to a fast start to her campaign with a team-high 16 points, Janet Guzman added seven and Meagan McKinney poured in six to lead the Huskies to a 40-33 winner.
"It was a good win for the kids and a message of the many areas that we need major improvements in," said Sherman head coach Steve Kaseberg. "Katie Poirier, Guzman, and Katie Asher did a good job of controlling the rebounding on both ends of the court."
In a nutshell, Kaseberg chalked up this performance to just part of the normal happenings of a first game with a bunch of mistakes by both teams, just that the Huskies had a few less than Southwest Christian.
"Most of our points came in our transition and we got a few second chance rebounds on offense," Kaseberg added. "The kids did a good job of holding them to only one shot on their offensive possessions."
In the nightcap versus Weston-McEwen, a 66-16 loss, the Huskies had a hard time establishing any offensive continuity in a game Kaseberg deemed as a measuring stick of a game.
"We didn't match their energy, their intensity from start to finish," Kaseberg said. "We absolutely struggled in every phase of the game of basketball and gave us a much larger list of improvements, and challenges to improve on immediately."
At least there is a place to start.
Kaseberg feels that his Husky basketball program has the pieces in place to make another run at the postseason.
It all started with his level of pride in the athletes' effort and leadership displayed by the upperclassmen.




"Best lesson for the kids, coaches and the program as a whole is, no matter if it's practice, open gyms, or games, you have to bring your 'A' game every time you step-out on the court. We truly believe we will get better as season proceeds," Kaseberg concluded.
Sherman (1-1 overall) hosts Stanfield at 6 p.m. tonight.
At 6 p.m. Friday, the Huskies travel to Glenwood, Wash., to take on Trout Lake.
Dufur scores defensive win
In what turned out to be a defensive showdown between two of the state's most stout units, Dufur and Perrydale engaged in an early-season, low-scoring contest, with the host Rangers picking up a 26-20 win over Perrydale Saturday in the Ranger Hoops Tournament in Dufur.
The Lady Rangers held serve in the opening half with a 14-8 lead, but managed to break free in the second stanza, as each team notched 12 points each.
Dufur maintained a six to eight-point lead for much of the game, and at the midway mark of the fourth quarter, the Lady Pirates inched to within four points.
A few clutch plays down the stretch, the Rangers restored order and came away with the three-possession victory.
"It was a game where I thought the intensity was good on both sides," said Dufur head coach Hollie Darden. "Perrydale is a good defensive team and they played good man-to-man defense. We did too. We made it tough for each other to score. I thought that we got out on the break and ran pretty well, but missed some easy finishing opportunities."
Teneille McDonald scored 11 points, Sammi Ghramm had five and Aimeelyn Miller and Alexa Macias picked up four points apiece.
But, the lead could have been larger if not for the Rangers hitting on 8 of 22 free throws.
"We are not panicking by any means," coach Darden said. "It is just we were a little disappointed in how we finished tonight. I know we are going to play a lot better than we did tonight. There were a lot of positives in the game; just we did not feel real good about our performance. You figure there are going to be nights like that where you don't play as well as you can, so it is just the way it goes."
Friday's game against Klickitat, Wash., was canceled due to weather.
Dufur (1-0 overall) next hosts Culver at 6 p.m. on Friday. At 1 p.m. Saturday, the Rangers host Columbia Christian.