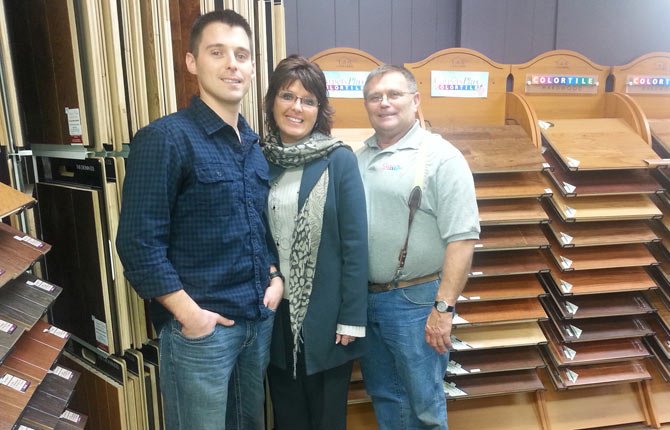 A second generation of Denneys will take charge at Gary Denney Floor Covering, building on the 36 years of experience the first generation has put into their The Dalles business.
Marcus Denney will bring the financial experience he has gained through 10 years in banking — plus experience working at the family business as a youth — to the helm of the company, giving founders Gary and Wendy Denney a chance for a little more relaxation.
The Denneys founded Gary Denney Floor Covering in 1977. Before that, Gary had honed his skills at the Carpet Hut for six years, a part of Turner's Home Furnishings.
The newly married couple had briefly flirted with the idea of moving out of town, but decided against it.
"Both our families are here, so that was a big draw," Wendy said.
Both Wendy and Gary attended school in The Dalles and, though they weren't high school sweethearts, Gary says they are and always have been sweethearts.
All three of the Denney sons, Marcus, his twin brother Jordan and younger brother Tyler, spent time at the store from infancy and worked at the store as teens, she said.
"I worked here scraping floors," Marcus said.
"Even before they could walk they came to the store when we were working," Gary said.
The business has had three locations over its lifetime, starting on West Fourth Street behind The Dalles Veterinary Hospital, then relocating to East Second Street where Rowe and Demming CPAs are today, before settling into their West Sixth Street location in the early 1990s.
Marcus says the generational transition will happen slowly.
"My goal is to maintain what we have and keep it going strong," Marcus said.
"And to grow from there," Gary added.
The challenges of owning a family business are many, the Denneys said.
"Here, you're doing everything — sales, service," Marcus said, comparing it to his banking work which involved a lot of financial statement analysis.
"I think small, family businesses are getting fewer," Wendy said.
"It's harder to compete," Marcus added.
But the Denneys bring an important element to the table, says Gary.
"We've, over the years, built a brand and trust in local people," he said. "We hope Marcus wants to continue on with that and grow on it. In some mom-and-pop stores it's tough today, yet there's a big need for our service because we offer service."
"We're hands-on," Wendy added.
"We have loyal repeat customers and that means lots of referrals," Marcus said.
"Our guys will go out for a job and the customer will say Denneys put their carpet in 20 years ago," Gary said.
Marcus said he is looking forward to the opportunity.
"If I can do half as well as my parents have done, I think I'll be a success," he said. "It's not often you get to take over the family business."
Marcus plans to bring an updated approach to marketing the business, incorporating technology, social media and internet marketing. Gary says the new tools at their disposal are also at the customer's disposal.
"The people have changed because they are really more educated because of the computer," Gary said. "They've researched floor covering before they come in and they test you. If you don't know, you've got a problem."
Another change the Denneys have seen over their decades in floor covering is a growing number of products with a broad range of finishes.
Gary points to the luxury vinyl tiles (LVT) as an example.
"They're fairly new and very popular," he said. "It's almost like a bulletproof floor."
And new manufacturing technology has allowed them to fit together more precisely.
Marcus will be building on the experience and advice of his parents.
"Losing is not an option," he said, when asked what he has learned from his family. "Dad has always preached that. And we're here for the customer."
"You have to have determination personally to keep that drive, or that fire, going," Gary said. "Everybody is always interested in things that are different, but that drive has to keep things going. You've got to find a way to make that happen."
Gary Denney Floor Covering/Carpet Plus Color Tile is located at 816 W. Sixth Street or call 541-298-4252.