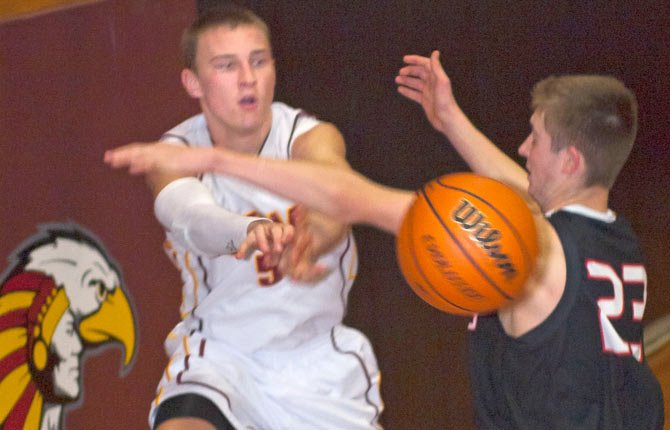 Oregon City teammates Trevon Bradford and Hunter Knughton racked up 15 points each, and the Pioneers broke open a one-point halftime lead with a 32-20 spurt in the final half to post a 49-36 victory Tuesday in a non-league boy's hoops matchup at Kurt Gym in The Dalles.
With the scoreboard reading 37-26 in the fourth quarter, one of the biggest turning points in the game took place, where the Eagle Indians had breakdowns on three straight possessions at the start of the quarter giving up a pair of threes and a lay-in.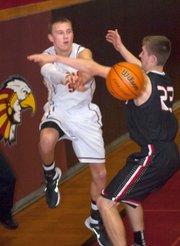 "Our margin for error is very small when playing a really athletic talented team like Oregon City," said TDW head coach Bob Townsend.
Oregon City gained an early advantage with a 13-6 surge in the opening frame, but then the Tribe bounced back with their most productive quarter for a 10-4 rally to creep to within a 17-16 deficit at the break.
The Pioneers created all of the cushion they needed in the third period on the heels of a 20-10 run.
For much of the fourth quarter, OC had a double-digit cushion, but TDW got it down to nine points, and could never get it back below seven points.
All told, the Eagle Indians had six players hit the scoresheet, as the duo of Zach Nerdin and Steven Bartells combined for 13 points apiece.
Coby Conlee added seven points, Clay Copper rattled home six and Devin and Austin Wilson notched two points.

"Our defense was very good for most of the game," Townsend said. "There were lots of things to build on, but overall I think we are getting better every day."
TDW (0-2 overall) hosts St. Helens at 7 p.m. Friday as part of a doubleheader with the girls playing at 5:30 p.m.