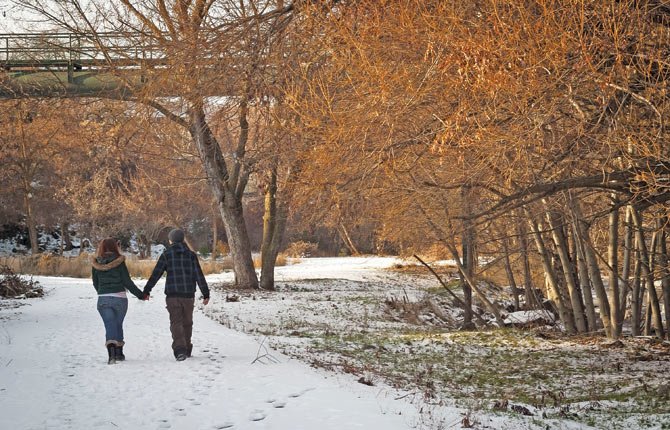 Flood Facts
Floods are the most common and costly natural hazard in the nation, according to the Federal Emergency Management Agency.
FEMA advises property owners in these areas to remember:
• The time to prepare is now. Supplies should be gathered in case of a storm and evacuation routes planned. Important papers should be kept in a safe, waterproof place. Conduct a home inventory, itemize and take pictures of possessions.
• Most standard homeowner's policies do not cover flood damage. An average policy that does cover floods costs about $600 per year, with rates starting at $129 annually for homes in moderate-to-low-risk areas.
Homeowners along Mill Creek, and some downtown business owners, are being asked by two public agencies to explore their flood insurance options due to the possibility of excessive runoff from a higher elevation as a result of damage caused by last summer's wildfires.
"We want to let people know that there can be a 30-day wait to get a flood insurance policy enacted," said Anderson, public works director for the City of The Dalles.
The city and Wasco County Emergency Management are concerned about an increased risk of flooding as an aftermath of the Government Complex Fires in August that left thousands of barren and burned acres in the Mill Creek Drainage.
Anderson said the potential for problems will grow as winter deepens and there is more snow and rain on ground that has been seared by fire so it has difficulty absorbing water. In addition, he said the lightening-sparked blaze in August charred the root systems of trees, brush and grasses on more than 11,000 acres in the drainage, about half in the city's watershed.
The Dalles owns about 5,000 acres in the watershed and 2,600 of those acres have been denuded of vegetation. A couple thousand acres are privately owned in that area and the remainder of land is under federal ownership and managed by the U.S. Forest Service.
Anderson said the city's water treatment plant near the creek was left unscathed by flames, thanks to around-the-clock protection from firefighters.
So the concern at this moment is that the area gets an average of 16 inches of precipitation a year. That gives the potential for a large volume of silt and sediment runoff, especially if there is a deep snow followed by warm rains that cause it to melt quickly and oversaturate the ground.
Anderson said properties along Mill Creek that were affected by the heavy flooding of 1996 will again be under watch. The overflowing waterway damaged businesses as far to the east as Court Street and these buildings, many with basements, could be once again at risk.
In 1996, the municipal water system was overwhelmed with mud flows and had to be shut down for several days. If that happens again, Anderson said the city can switch to well water to keep residents supplied.
He said the city has taken preventative measures by seeding the area by air and hand, and grass has sprung up naturally in some areas, although steep hillsides remain vulnerable to erosion.
Next year, Anderson said the city will remove trees that have been killed by fire and plant new Ponderosa Pines and scrub oaks to create a new root network for ground stabilization. Areas where the fire burned hot enough to sterilize the ground may take longer to get vegetation established.
Flood risks remain significantly higher until trees, plants and grasses have regrown, which takes up to five years after a wildfire, according to the Federal Emergency Management Agency.
To alert residents about a possible flood, the city has partnered with the U.S. Geological Survey to install a temporary stream flow monitoring station on the north fork of Mill Creek.
"We plan to use that as an early warning system for a developing flood event," said Anderson.

All residents are reminded to register for the Wasco County Citizen Alert System, which is used by the emergency response agencies to warm the public of situations such as flooding. Individuals can create a secure profile to register cell phones and other devices at www.co.wasco.or.us by clicking on the Citizen Alert icon.
For more information on flood insurance, contact an insurance agent or visit www.floodsmart.gov.
For general questions about the potential risk along Mill Creek call Anderson at 541-296-5401 or Kristy Beauchamp, emergency manager for the county, at 541-506-2790.