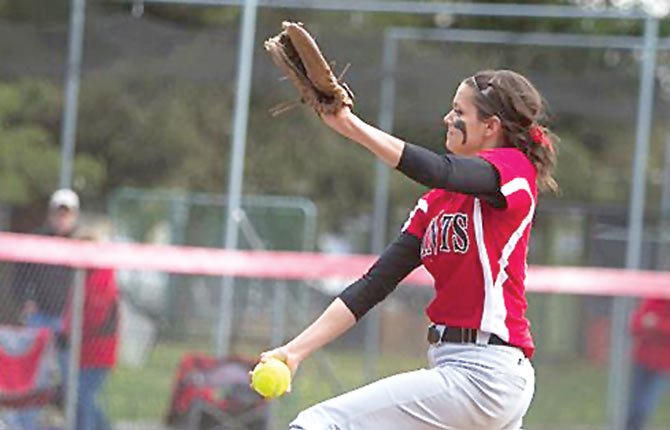 KLAMATH FALLS – Oregon Tech head softball coach Greg Stewart announced that Mount Hood Community College's All-American pitcher and The Dalles Wahtonka graduate, Ann Marie Guischer, would join the Oregon Tech roster for the 2015 season.

Guischer is currently in her second season at Mount Hood Community College and will transfer to Tech as a junior.
"Ann-Marie is a very good pitcher that will be a great addition to our team in 2015," Stewart said. "She has already been successful against good lineups at the college-level and could be one of the top pitchers in the Cascade Conference."
As a freshman at MHCC, Guischer was just one of two pitchers named First-Team NWAACC All-American in 2013.

Guischer was named the Southern Region Pitcher of the Year for the Saints, finishing last season with a 12-5 mark in the circle, while striking out 151 batters in 101 innings and coming away with a 1.46 ERA.

She allowed two runs or less in 23 of her appearances, struck out 10 or more opposing batters five times and even added a no-hitter on March 8 in a mercy-rule victory over Blue Mountain Community College.
Guischer won her first four appearances, with the no-hitter coming in her third-career start.
From March 23 to April 16, the freshman went 2-4, but then won six games and had no losses in her final 10 times in the circle.
One of those games was a playoff tilt against Clackamas, where she allowed two hits, struck out seven and did not walk a batter in her complete-game performance, a 3-0 MHCC quarterfinal triumph.
That run ended in the last two rounds of the double-elimination playoffs, as MHCC lost 6-1 in the semifinals to Wenatchee Valley and then lost to eventual tournament runner-up, Douglas Community College, 5-4.
With an already expanded pitching repertoire, Guischer said she improved all aspects of her pitching game to added control, velocity and a new weapon in a rise-ball.
"That comes from coaching and some of the drills we have to do. It helped my arm strength," Guischer said in an earlier interview. "I have gained a lot of knowledge by pitching here. I think I can get better and better though."
Prior to her collegiate career, in three seasons at The Dalles-Wahtonka High School, Guischer led her teams to three semifinal appearances in the 5A State Championships, while earning second-team all-conference honors in her sophomore and junior seasons.

As a senior, Guischer earned first-team all-league recipient and added Columbia River Conference Pitcher of the Year honors and she capped her prep career with a spot on the 5A first-team all-state list.

As an institution that prides itself on molding and shaping today's students for tomorrow, TDW offered praise to one of its own.
"Everyone at The Dalles Wahtonka High School is extremely proud of her accomplishments and continued success," said athletic department secretary, Alyson Vennewitz. "Her dedication in the classroom and on the field has led to an individual who will continue to thrive in all she does — a job well done."
As an observer of her traveling teams years and a head coach throughout her varsity seasons, TDW softball coach Steve Garrett was brimming with excitement at the recent news.
"When I heard that Anmo was considering the move, I was excited for her," Garrett said. "She has more than proved that she can compete at any level she desires. I look forward to seeing her progress into this next phase of her game. She deserves all she has earned."
At OIT, Guischer will have all of her schooling paid for in addition to a third year, along with money for living expenses.
She plans to pursue a major in radiology.
From her start as a key member of the Cherry City Crush to other travel teams and on into high school and one season at Mount Hood, the level of competition faced while in high school prepared her for the rigors of the collegiate circuit.
"I think the conference that The Dalles is in is great for helping athletes perform at their best because has some tough teams to play against," Guischer said. "You have to perform at your best in order to be successful. You could not take any team lightly."
With this vault into the ranks of the National Association of Intercollegiate Athletics, Guischer joins a long line of former softball players like Sarah Clark, Katie Johns, Jessica Wood, Lori Jones, Rylee Parke, Chelan Guischer and Katherine Kramer, to take their talents to the collegiate stage.
"The Dalles having so many great athletes, shows that all the work these coaches put in helps improve the level of play in sports," Ann Marie said. "It gets you more prepared and show you that you can play at the top levels of softball."