Economic growth doesn't mean anything if it leaves people out. — Jack Kemp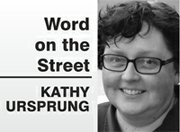 An economy in dichotomy: Ask just about anyone and they'll likely say that rural economies are in crisis.
Signs this year are that Oregon's painfully slow recovery from the Great Recession is starting to pick up steam, but the state's economists have repeatedly warned this year that Oregon's rural areas are at risk of continuing to lose economic ground.
Based on past experience, this is no surprise. Rural areas almost always lag in economic recovery, and salaries almost never align with urban areas.
Some challenges are more universal. For example, middle-wage jobs are being replaced by low-wage jobs in both urban and rural economies.
Thus, the Oregon Business Association recently set rebuilding the middle class as it's top task.
We've said it before, a thriving middle class is a primary driver of a healthy economy — and a healthy society. Who else is going to keep all those stores open and thriving?
But into this dark economic picture a little ray of sunshine was beamed this week by a young financial company called NerdWallet. These self-described number crunchers named Wasco County (and Hood River County, too) as among the best places in Oregon for job-seekers.
Why? You may ask.
NerdWallet looked at a variety of statistics from 2011:
• Is the county growing?
• Can you afford to live their comfortably?
• Are most people employed?
If you exclude the metropolitan area counties, which came in solidly middle of the pack, most of the best opportunities came in counties like ours — largely rural but with good-sized population centers.
Hood River and Benton counties were one and two, respectively, with strong median income levels, but high homeowner costs.
While Wasco County's median wage wasn't as high, it had the largest working-age population growth on the list, plus homeowner costs substantially lower than most and lower-than-average unemployment rates.
Rural Umatilla, Union, Columbia and Tillamook counties rounded out the list. Altogether, a pretty good rural showing.
Find the whole story online at http://www.nerdwallet.com/blog/2013/best-places-oregon-job-seekers/.