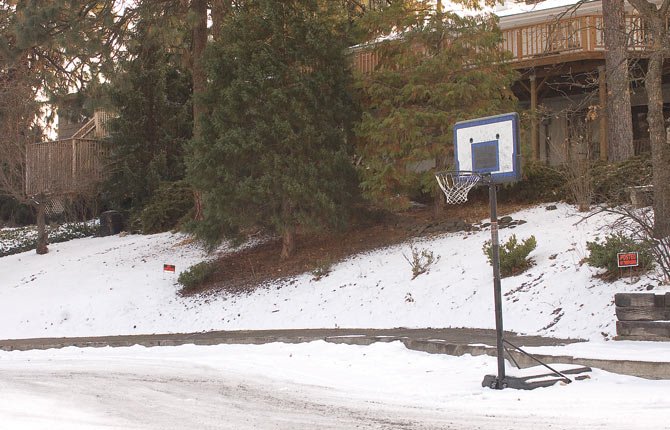 It's hard to imagine one portable basketball hoop causing the kerfluffle it did at The Dalles City Council Dec. 9, with one neighbor hiring an attorney to try to have the hoop removed and the council voting to allow the hoop, a move counter to the recommendation of its own Traffic Safety Commission.
But the council's reasoning had a down-to-earth foundation that speaks to much larger issues within our society.
Once upon a time, parents used to turn off the TV and order their children outside to play in the fresh air.
A game of streetball, interrupted by the occasional shout of "Car!" was a daily occurence on many streets of The Dalles — and other cities large and small.
Children roamed their neighborhoods in packs playing games of their own imagining and as long as they were home for dinner all was right with the world.
Of course, those were the days when more stay-at-home moms were around the neighborhood to keep a wary eye out the window, making sure any mischief kids got up to was of a mild variety.
Today is a different era, dangers to children are splashed across the headlines on a daily basis. It's not that those threats didn't exist before, but they weren't brought into our living rooms all across the country as a consequence of the proliferation of various 24-hour news media.
It's enough to give any parent an anxiety attack.
Thus children who once learned independence and how to keep themselves entertained are kept indoors and hovered over by worried parents, or parked in front of a boob tube babysitter. Many have little opportunity for unstructured play — once the way many children got their daily doses of exercise and Vitamin D.
The parents who plunked the basketball hoop down against a cul de sac curb just wanted a place for their kids to spend time outside, getting exercise and fresh air.
The lack thereof has become a nationwide epidemic of large enough proportions that it is the theme of a national initiative led by First Lady Michelle Obama.
Obama's aim as the founder and face of the Let's Move! campaign is to raise a healthier generation of kids with an emphasis on nutritious eating and regular exercise.
The idea of outdoor play is so important to that effort that it has it's own special section on the letsmove.gov website. It talks about how to find parks, trails and playgrounds.
That's a great resource, but it doesn't take into account the convenience and camaraderie of just being able to go outside and play with the neighborhood kids.
Not every neighborhood is built for this kind of activity. We're not suggesting parents send their kids outside on busy 10th Street for a game of stickball.
But The Dalles is built with a lot of self-contained neighborhoods where kids can safely play outside, especially on weekends when parents are likely to be nearby.
The Traffic Safety Commission wasn't wrong in it's recommendation. Their job is to encourage measures to make both foot and wheeled travel safer on our streets. But the city council wasn't wrong either.
Their job is to make sure all the factors are considered. The risk of traffic injury as a result of a basketball hoop on a lightly traveled cul de sac is minimal. And the hoop's daily health benefits more than counteract those risks.
Parents need to be able to give their children every excuse to get outside and exercise their bodies, minds and independence.