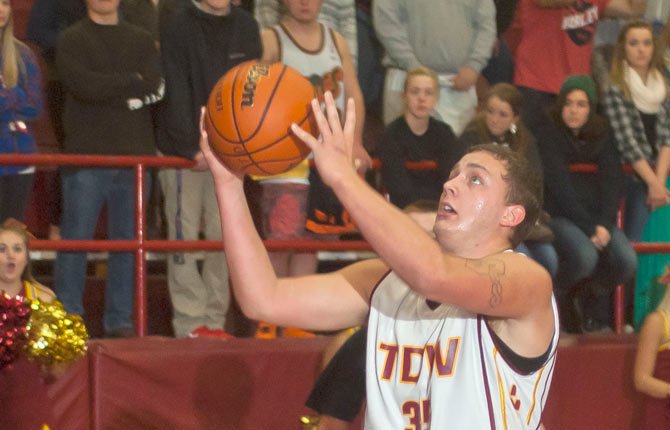 The Dalles Wahtonka coach Bob Townsend called his team to the carpet after Friday's lackluster performance against St. Helens.
What he saw on offense and defense in their home opener did not sit well whatsoever.
The Lions made 23 field goals, seven from long distance, and had two scorers hit double-figures led by Tanner Long's 19 points and Justin Helgerson rattled home 10 in their lopsided 64-43 win at Kurtz Gym in The Dalles
"Definitely I am frustrated," Townsend said. "To play like that at home, in front of our first big crowd of the year, is a disappointment. It comes down to effort. We can coach all of the X's and O's we want, but if we can't get the kids to play hard for us, then that is a problem. We will make some adjustments, so we don't have that problem again."
St. Helens outscored TDW in every quarter of play, but used a hot-shooting first half to build a 37-21 lead.
The run continued in the third quarter with the Lions posting a 13-10 output to pad their cushion out to 50-31.
TDW staged a bit of a rally in the first parts of the final frame, but any shot made, was answered immediately by St. Helens.
Devon Jewett had eight points, and four other players added six points each, as the Lions had eight players drain baskets.
On the flip side, Zach Nerdin led the Eagle Indians with 10 points, all in the first half. Clay Copper tallied eight points, and teammates Coby Conlee and Steven Bartells followed with seven points apiece.
"We did not come to play today. I don't know," said Tribe guard Angel Esiquio. "I hope that this is the wakeup call we need. I think we need to come better prepared for our games physically and mentally. I am really confident that we can play better this year. Once we pick our effort up, I think we will be better."
TDW (0-3 overall) hosts Sandy next Friday at 7 p.m. as part of another doubleheader with the girls starting at 5:30 p.m. earlier in the evening.