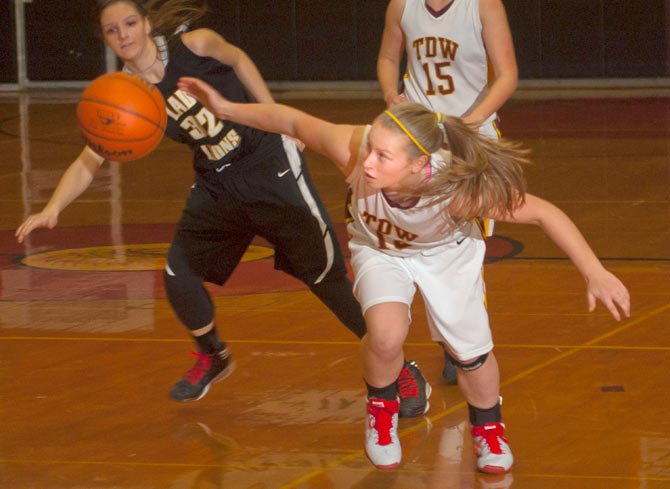 With two games canceled due to inclement weather, The Dalles Wahtonka girl's basketball team was growing increasingly desperate for any kind of competition.
It showed in a major way Friday, as the Eagle Indians used defense and timely scoring to romp over St. Helens, 35-11 in non-league girl's basketball action in The Dalles.
"I was surprised by our enthusiasm. We wanted to come out and get that first game out of the way and just relax," said TDW junior Katie Conklin. "I was surprised that we came out with such enthusiasm and it got me going. It was a great experience. We played a good game."
TDW forged ahead early on with a 7-2 run in the opening quarter, but then landed the knockout blow in the second frame on a 14-1 spurt.
The lead grew to as much as 21-2 with 37 seconds left in the quarter, as a layup by Brooke McCall, a jumper from Morgan Goslin and two free throws by Ruthie Ford capped a 14-0 run.
Olivia Starks and Ruthie Ford scored eight points apiece, and Emily Bailey kicked in seven points for the Eagle Indians, who had 16 field goals made from six different players.
Morgan Goslin, Brooke McCall and Katie Conklin rounded out the statistical leaders with four points each.
"We still have a lot to work on, but it was good to get a win. A win is a win," said TDW coach Dan Telles.
For St. Helens, Rianne Tupper led her squad with five points, and Brittney Bartolomucci scored all of her three points in the fourth quarter to account for the Lions' four field goal attack.
"I think we are doing great. It was nice to put it all together and it was great to start out with a win," Conklin added.
TDW (1-0 overall) played Saturday at Reynolds High School in a makeup game.
At 7:30 p.m. Tuesday, the Tribe hits the hardwood once again versus Cleveland.
Redsides strong against Lutheran
The South Wasco County Redsides moved their winning streak to three games after dropping Portland Lutheran by a 43-27 margin Friday in a non-league tussle in Maupin.
Even when faced with the task of handling a front line of two 6-footers, the Redsides stood tall after falling behind 11-10 through one quarter.
In the second and third frames, SWC added some distance to the scoreboard using spurts of 8-4 and 15-2 to jump in front 33-17 entering the final period.
"I thought our defense was really solid tonight," said Redside head coach Ron Townsend. "We made them take tough shots and then we rebounded well. It was a real good job against a tall team."
Molly Foreaker had the hot shooting hand in full force, leading the Redsides with a season-high 13 points.
Zoe Morelli tacked on 11 points, Joy Kelly checked in at seven, and Roxanne O'Neal scored five points.
Bench production came out with Sonya Schmitz and Lisa McNamee working for a combined seven points.
SWC (3-1 overall) played at Perrydale Saturday. After that, they go to Irrigon for a non-league battle at 6 p.m. Tuesday.
Solid defense key to Dufur win
The senior duo of Alexa Macias and Kelly Heemsah combined for 27 points on 10 of 21 shooting to lead the Dufur Rangers to a 45-20 drubbing of Culver in non-league girl's basketball action Friday in Dufur.
Both teams started out in a 5-all draw through the first three minutes and 27 seconds, but then Dufur staked control over the next 12 minutes outscoring Culver 13-5 and 14-7 to pull ahead 27-12 at the break.
In the second half, the Lady Rangers maintained an edge using an 18-8 run for the 25-point win.
Defense was the main effective element to Dufur's game, as it held Culver to 7 of 31 shooting from the field.
In addition, this defense grabbed 12 steals and forced 26 turnovers.
In all, Culver had three players hit field goals, and just Hannah Lewis (eight points) and Emma Hoke (6 points) managed multiple baskets.
The Rangers had five players hit the scoresheet, led by Macias, who poured in 14 points, five assists, four steals and two rebounds.
Heemsah added 13 points and seven boards, Teneille McDonald added seven points and eight rebounds, and Hannah Harris was good for another seven.
On the glass, Tianna Ellis and Sammi Ghramm combined for 14 rebounds, as Dufur held a 44-30 edge, 18 coming on the offensive end.
Dufur (2-0 overall) heads to Lyle to play the Cougars at 6:30 p.m. Tuesday.
Saturday's game versus St. Paul was re-scheduled for 6:30 p.m. on Monday, Feb. 3.