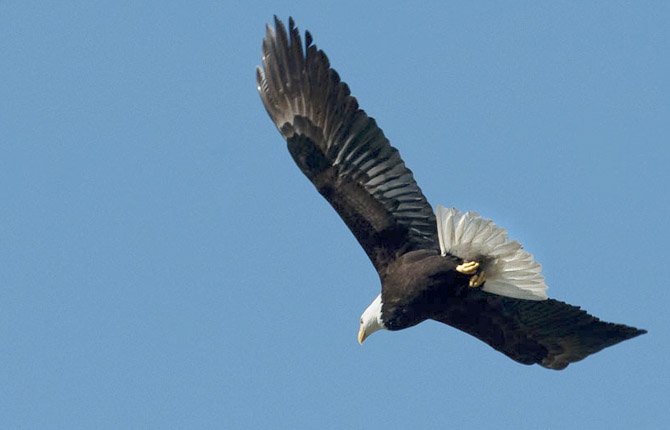 The U.S. Army Corps of Engineers invites area residents and visitors to catch a glimpse of the American bald eagle at the fourth annual Dam Eagle Watch.
This two-day event takes place Saturday, Jan. 11 and Sunday, Jan. 12, from 7:30 a.m. to noon at The Dalles Dam Visitor Center. If the event is canceled due to inclement weather, the event will be held Saturday, Jan. 25 and Sunday, Jan. 26, at the same times.
Bald eagles migrate south each winter in search of food. The Columbia River provides open water and an excellent source of fish for these winter guests, and Westrick Park (at the west end of The Dalles Dam) provides quiet and secluded roosting habitat from December through early March.
The Corps partners with the U.S Forest Service and the Rowena Wildlife Clinic to provide birds of prey educational programming and live raptor viewing during the event. A variety of fun activities will be available for all ages. Spotting scopes will be set up inside and outside the visitor center to view the roosting eagles.
The event is free, and the site is accessible to visitors with disabilities; visitors are encouraged to bring scopes, binoculars and cameras.
To learn more about raptor viewing and educational opportunities in the Columbia Gorge area, check out The Columbia Gorge Discovery Center and Wasco County Museum at http://www.gorgediscovery.org or The Rowena Wildlife Clinic at http://www.rowenawildlifeclinic.org.
The Dalles Dam Visitor Center and Seufert Park are located just north of Interstate 84 at exit 87. Turn east onto Bret Clodfelter Way and follow the road to the visitor center. For more information please contact The Dalles Lock and Dam Ranger Office at 541-506-7819 or visit http://www.nwp.usace.army.mil/recreation/
home.asp.