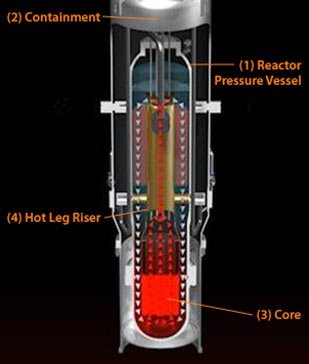 Today marks the 75th anniversary of a discovery that forever altered the course of the world, for better and worse.
On this day in 1938, while performing experiments in Berlin, German chemists Otto Hahn and Fritz Strassman discovered nuclear fission by splitting the nuclei of uranium into lighter elements.
The discovery not only led to the development of nuclear bombs, but also to the development of nuclear energy as a source of power.
Today, the United States is the world's largest producer of nuclear power, accounting for more than 30 percent of the worldwide nuclear generation of electricity. Its 104 nuclear reactors produced 821 billion kilowatt hours of electricity in 2011, over 19 percent of the country's total electrical outlook.
Recent developments in the fossil fuels arena have cast nuclear energy development in the shadows of late.
The U.S. Energy Department predicts U.S. crude oil production to rise by 800,000 barrels per day through 2016 to reach 9.5 million barrels per day. That's just shy of the 1970 record of 9.6 million.
Natural gas production is also predicted to grow steadily through 2040.
As a result of increased production and lower use, the agency predicts a decline of energy imports from 30 percent in 2005 to just 4 percent by 2040.
The renaissance of fossil fuels in the U.S. may overshadow nuclear power efforts, but it hasn't snuffed them out by any means.
But the future of nuclear power may no longer be in massive — and massively expensive — reactors like PGE's former Trojan power plant.
The U.S. Department of Energy has awarded an Oregon company a grant to help it design and obtain federal approval for small-scale modular nuclear units that can be built in a factory and shipped to installation sites.
The move is part of President Barack Obama's plan to develop power sources that do not contribute to climate change.
The goal is a safe, reliable and low-carbon nuclear energy source.
Small, modular reactors are intended to be more affordable, safer and faster to build than conventional plants. Instead of pumps to move coolant, they would use gravity for a more reliable design, according to Michael McGough, the NuScale Power LLC chief commercial officer. NuScale is the recipient of the grants.
This new development could result in growth of the nuclear power industry worldwide, particularly if it can be shown the risk from rare, yet catastrophic failures like those at Chernobyl, Threemile Island and Fukushima is greatly reduced.
Single 45-megawatt modules could be shipped to end locations on special trucks. The small reactors are predicted to cost roughly $3.7 million per megawatt installed compared to $10 million per megawat for conventional plants.
While the prospect of small-scale nuclear reactors sounds exciting, it fails to factor in one growing elephant in the room: the lack of a permanent geological storage site for nuclear waste.
The U.S. government has abdicated on its promise to have a repository by 1998 and nuclear waste now continues to stack up in temporary storage.
It's not a huge amount physically, according to the Nuclear Energy Institute. Stacked end to end, it would cover an area the size of a football field to a depth of less than 10 yards. But that's not the issue. The issue is the potential — as anyone who lives within a 300-mile radius of the Hanford Nuclear Reservation ought to know — for spent fuel to leach its toxins into the surrounding groundwater.
President Obama may be enthusiastic about the potential of nuclear energy, but he and his successors need to get serious about solving the permanent storage problem.
Yucca Mountain, a geologically stable site in Nevada, was meant for this purpose, but Nevadans successfully fought off the plan.
The need for permanent storage hasn't gone away. And if more reactors come online, that just means the problem will grow deeper faster.
This problem needs to be resolved before new developments make this technology more popular and accessible.