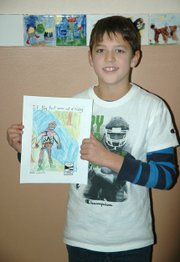 BRADEN SCHWARTZ, 9, is shown holding his winning entry for the Discovery Center's "Sasquatch Revealed" coloring contest.
He lives in The Dalles and attends Kathy Gay's third grade class at Dry Hollow Elementary School. The winning design was chosen Nov. 20 by the Discovery Center staff.
The contest was open to all third graders living in the Columbia Gorge area. Schwartz' artwork will be featured on T-shirts for sale that will accompany the upcoming "Sasquatch Revealed" exhibit, opening Saturday, Dec. 28, 4 to 9 p.m. at the Discovery Center.