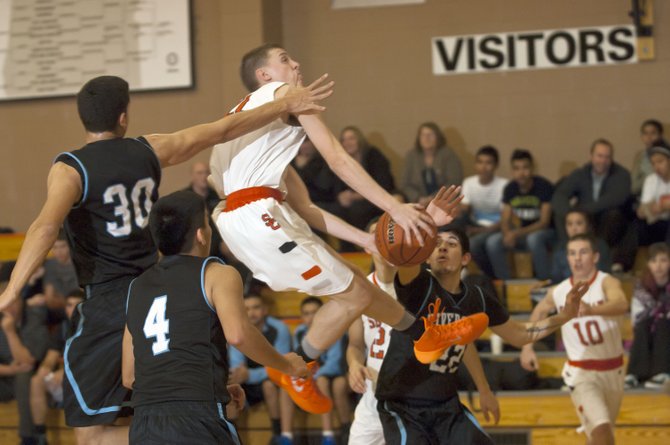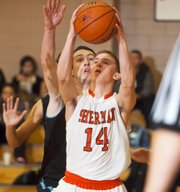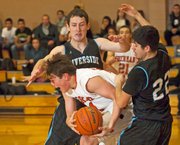 The Sherman Huskies moved their record to a perfect 3-0 when scoring 65 points or more, Austin Kaseberg and Ben Holliday combined for 50 points to lead their squad to a 66-50 win over 3A Riverside Tuesday in a non-league boy's hardwood battle in Moro.
Riverside got an early jump on Sherman with a 17-13 lead through one frame, but then the Huskies got their wits about them and responded in a big way.
Sherman had its offense working proficiently to the point of a 24-6 rally in the second quarter to lead the game by a 37-23 margin at the break.
"We moved the ball quickly around the zone for open shots and we made a good percentage," said Sherman head coach Bill Blevins. "[I was] really happy with their execution of the zone offense."

The Pirates staged a little bit of a comeback in the third quarter using a 13-9 tally to make the score 46-36 with eight minutes left in the contest.
Because Kaseberg had the hot hand from long distance, with seven 3-pointers, the Pirates had to quickly scrap their 2-3 zone defense for a more traditional man set.
"This would open up the driving lanes for us in the second half," Blevins added. "Ben Holiday took full advantage of this getting 14 points in the fourth quarter on drives to the basket."

In the fourth quarter, Holliday had things working well in leading the Huskies to a 20-14 spurt to cap the scoring.
All told, the Huskies sank 24 field goals, nine from 3-point range, and they hit on 9 of 15 free throws.
Kaseberg ended up with a game-high 30 points to pace Sherman's scoring leaders.
Riverside notched 11 2-point baskets and added six 3-pointers to go with a 10 for 21 effort from the stripe.
Sherman (3-3 overall) heads to the Triad Tournament for first-day action against New Hope Christian at 3:30 p.m. Friday.