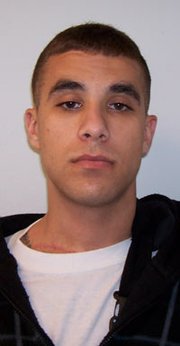 A fugitive watch has been issued for Albert Chico Cervantes-Herr, 25. He is five feet six inches tall, weighs 180 pounds, with black hair and brown eyes.
He was convicted of delivery of methamphetamine, possession of methamphetamine and felon in possession of a weapon.
The offender was ordered to serve 24 months on Post-Prison Supervision for Delivery of Meth. The offender was sentenced to 18 months of probation for the Possession of Meth and Felon in Possession of a Weapon. A warrant was issued for his arrest in December 2013.
Cervantes-Herr is being supervised by Wasco County Community Corrections. Anyone with information as to the whereabouts of this offender should contact local law enforcement or contact Wasco County Community Corrections Parole/Probation Officer Ashley Handley at 541-506-2570. All calls will remain anonymous if requested.