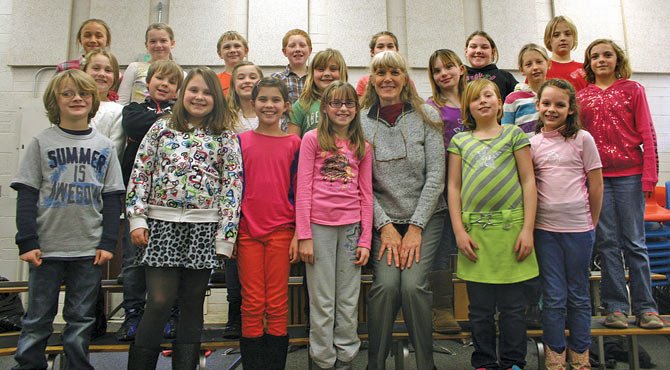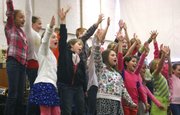 In the midst of a season devoted to celebrating family and getting into the holiday spirit, it's a time when our community is inundated with performances of all kinds—far too many to choose from, even.
However, what makes this week's Dufur Schools' winter program special—apart from the wealth of enthusiasm that's already gone into it — is the very human story behind it.
After a five-year absence, Margaret French, long-time teacher of music, has returned to Dufur Schools to organize and direct the program.
Following an accident that left her son, Jake, a quadriplegic in 2008, French gave up her position as head music teacher at Dufur Schools to become his full-time caregiver and, as she put it, she's "never looked back since."
"My life changed in one second on Dec. 6, 2008," she said. "I went from music teacher to nurse-caregiver. Now my son is gaining independence and I can be gone for short periods of time each day, allowing me to teach music again."
When French learned that Dufur Schools needed someone to help put together this year's winter program, she made a call to Superintendent Jack Henderson and offered to direct. They quickly drafted a three-week teaching schedule, "and that was that," she said.
"It's been a joy to be back in my old classroom and making music with awesome kids again," she beamed, sitting on the music room risers with a smile on her face. "The students who were in kindergarten and first grade when I quit teaching in 2008 are now fifth and sixth graders. It's been quite comical trying to guess a boy or girl's name who remembers being in my class when they were little. Many of the pre-school through second graders are children of students I taught at Dufur in the late 1990's."
According to French, she's learned a lot from her son Jake, now an inspirational speaker, who she says has made "can-do" a way of life.
"'Life happens, live it' is his motto," she said. "He's really taught me a lot about patience over the last few years … and now I've been given a chance to reconnect with what I love and with what fulfills me. Holidays and big performances like this were always my favorite parts of the job."
The creative process of putting the show together, French said, is one of her favorite parts of the entire experience.
"I've always got a hundred different ideas running through my mind at the same time," she laughed. "I've actually got a huge 'million dollar' bag at home filled with story ideas … Maybe someday, when I'm an old woman, I'll finally have the time to sit down and write a bunch of children's books. That's something I think I'd really like to do."
French said she's very proud of the program's format in that it allows parents and audience members to see their children sing seven songs together.
"In every performance I've ever directed," she said, "I like to have the audience completely engaged. It's unusual to see a group of 150 students all on the risers at the same time singing together like that, and performances like this allow creativity to really shine."
Each class is performing one solo.
"Every song has something different to offer," French said. "There's even a point in the show where kids get to throw Styrofoam snowballs at the audience. With productions like this, the whole point is to have as much fun as possible."
From choreography to dancing, to solos, to animated actions, to the use of costumes, props and "marimba" accompaniment, the show is guaranteed to have surprises in store for everyone.
"A lot of people have come together to make this happen," French said, describing how her friends and family members rallied their support to make it possible for her to teach these last three weeks.
"I think it's been good for me to learn to let go and let my son take charge of his life," she said. "I didn't think mine would ever include teaching music again at Dufur, or any school … I've learned to never give up hope; that life will bring changes no matter what, but that you always have to learn to adapt and figure out a way to make things work."
When asked if there was anything else she wanted to add about Thursday's event, she said, "Students have had a great time preparing for a rockin' winter program for their parents, family and friends, and we would like to invite everyone to come get some holiday cheer and enjoy the musical evening!"
The program is scheduled to take place this Thursday, Dec. 19, at 7 p.m. in the lower gym at Dufur School. Family, friends, children and anyone else who wish to enjoy the musical festivities are welcome.