It's been 10 years since Mary Merrill was hired as the director of Columbia Gorge Community College's Small Business Development Center (SBDC). This month marked her retirement with the hiring of a new director, Jeff Nicol, effective Monday, Dec. 9.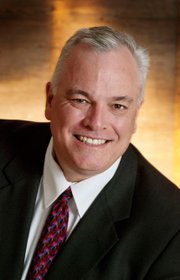 A resident of Hood River since 2006, Nicol has become a highly engaged community member and business enthusiast throughout the Columbia Gorge.
With academic degrees in business administration and economics, his background includes rich professional and entrepreneurial experiences, everything from working in the Silicon Valley high-tech sector to starting his own Oregon-based data protection consultancy, serving as chief financial officer to a Bingen-based manufacturer, facilitating for a Stevenson-based software startup, and volunteering for countless local charitable, government and professional organizations. Also, if his face looks familiar, it might be because Nicol has embraced leadership roles with the Hood River Planning Commission, Hood River City Council, Mid-Columbia Economic Development District and Gorge Chapter of the Oregon Entrepreneurs Network.
"I bring broad experience in having worked with very large corporations as well as startups, nonprofits and local government," Nicol says. "Moreover, having been involved in creating and running small companies, I understand what it's like to work with limited resources. My goal is to help supply resources to our clients and empower them to start, grow and sustain their businesses. Leveraging my experience and knowledge with that of the wonderful staff of SBDC counselors at CGCC plus the fantastic resources of the greater Oregon SBDC Network, I feel poised to make a seriously positive impact on our local business community."
With Nicol taking the SBDC helm, Merrill will continue making her own positive impact, consulting for small business organizations and individual SBDCs.
As a former SBDC director, perhaps best known for her leadership involvement with Gorge Grown Food Network, The Dalles Main Street Program, and countless collaborative projects provided by the SBDC at CGCC throughout the region, Merrill also plans to pursue a unique passion: helping women-owned businesses in Japan export their goods to the Pacific Northwest within the next five years.
"I have the connections and expertise, and this is a dream that I'd like to see come true," she said. "Meanwhile, I'll carry with me many amazing experiences from my time as director of the SBDC at CGCC and am forever grateful to those who made it possible, especially Dr. Frank Toda and the staff of the college itself."