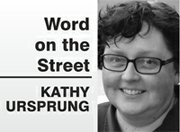 Direct from the North Pole: The next time you meet a member of The Dalles Kiwanis Club, give them a hearty "Ho Ho Ho! Merry Christmas."
Kiwanis members are responsible for the presence of Santa and Mrs. Claus and their sleigh in downtown The Dalles. They're working in tandem with The Dalles Main Street and other organizations. One more Saturday is remaining in their stay. They'll be at the old Griffith Motors from noon to 3 p.m. Dec. 21.
Due dilligence: A certain ad appearing in The Dalles Chronicle recently may have some people questioning what's going on in the cafeteria at Columbia Gorge Community College.
The college is seeking proposals for dining, catering and vending services. As many may know, those services have been in the capable hands of Dave Lutgens since the campus opened in the mid-1990s. The notice isn't a sign of Lutgens' imminent departure, by any means. But it is a legal requirement of the college to put the contract out for competitive proposals, said Robb Van Cleave of the college. The law now requires that to happen every five years with the possibility of a three-year extension. Van Cleave said the college wanted to give other businesses the opportunity to make a proposal, so the college bought some ads and sent the request out to a long list of gorge businesses. "It's important the board make a good effort to get the information as far as we can," Van Cleave said.
Lutgens, whose current contract expires July 1, 2014, has informed the college that he intends to make a proposal to continue serving the college, said Kaleen Warner-Arens, purchasing coordinator. For more information, call or email her at 541-506-6075 or kwarner@cgcc.edu. Closing is 2 p.m. Wednesday, Feb. 12, 2014.