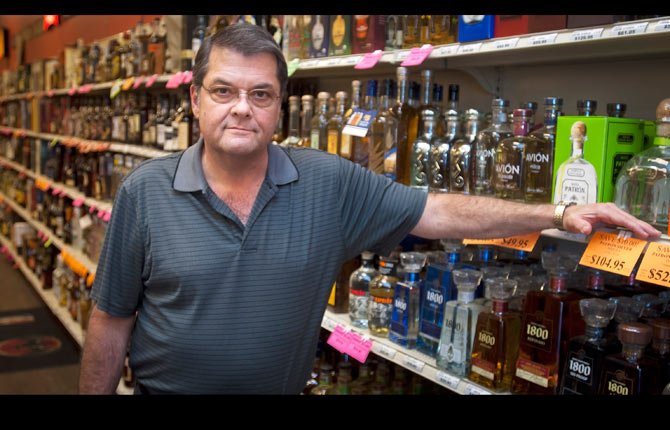 Liquor could soon be available on grocery store shelves, if Oregonians for Competition can gather enough signatures to bring a ballot measure before voters — and get their approval — in November 2014.
On Monday, the political group filed five initiative petitions with the state on behalf of the Northwest Grocery Association, which represents big chain outlets such as Fred Meyer and Safeway.
The association is seeking citizen approval to allow stores over 10,000 square feet to stock liquor instead of having hard alcohol sold only by state-licensed agents at small stores.
"Oregon is one of just a handful of states that is still in the liquor business," said Pat McCormick, attorney for chief petitioners Lauren Johnson of Bend and Lynn Gust of Portland, who represent the association.
"We don't think it is appropriate for the state to have a monopoly on liquor sales," he said. He said all five petitions for the Oregon Liquor Control Modernization Act are similar in nature, with just minor differences to accommodate potential policy choices for the final version.
He said the state should rightfully retain its regulatory and licensing oversight role, but the marketplace should be opened up to create new economic development opportunities.
"Every business will be able to negotiate what's best for them," said McCormick of widening the competition among liquor distillers, a move the association said will lower prices.
"The marketplace is going to dictate who wins and who loses in each situation," he said.
He said retailers will be able to get lower prices and have shipments delivered directly to their business instead of having to pick liquor up at a state store.
McCormick said the current system was put in place after Prohibition and having the state operate stores is "inefficient" and costly to taxpayers.
Mark Freeman, co-owner of the liquor stores in Hood River and The Dalles, said lower prices and greater economic vitality were the promises made to Washington voters in 2011 — but that didn't turn out to be the reality.
Instead, he said small business owners have been crowded out of the market by megastores and the price of liquor has risen dramatically.
He said smaller stores can't compete in a market where larger shipments bring discounted prices, which gives giant retailers the financial edge.
"If this happens in Oregon, it's going to close small businesses," he said.
He said the Oregon Liquor Control Commission generated nearly $380 million in revenue during the 2011-13 biennium to support schools, public safety and healthcare, so the association's claims about inefficiency in the system are not true.
"We make money for Oregon and it is important not to jeopardize this revenue source," he said.
He said the association talks about creating jobs by privatizing liquor but, in actuality, the 1,200 employees and 249 independent store owners who contract with the state to provide services will have their livelihoods threatened.
He said these individuals pay income tax and the store owner also bears the cost of rent and utilities. He said other companies will be affected by a change in the way Oregon does business because liquor stores stock other merchandise, such as glassware, that is ordered from local suppliers.
Freeman said he and other agents felt "blindsided" by the association's filing of the petitions Monday. He said the Retail Innovations Task Force put together by the liquor commission has been working on a modernization plan for the legislature to pursue during the 2014 session.
"Oregon's liquor retailing system still works well after 70 years, but we were willing to look at ways to make it better," he said.
The task force met five times and was comprised of 13 members representing a wide variety of interests, including public safety, retailers and the alcohol beverage industry. Freeman said the focus was to make changes within the existing structure that avoided a repeat of problems brought by privatization in Washington.
The Seattle Times researched the price change and found a $3 increase in the cost of a fifth of liquor after privatization in Washington.
Freeman said the price gets more prohibitive for "top shelf" alcohol, such as Patron Tequila, which sells for $49.95 per bottle in Oregon and $63.44 in Washington.
McCormick said the association has studied the pricing problems in Washington and intends to replace the revenue generated by Oregon's liquor commission with the fee of 75 cents per container plus a one-time 71.7 percent tax of the price for which the holder sells the distilled liquor. Proponents could not say whether that price taxed was wholesale or retail price.
He said the modernization act will allocate a percentage of these funds to cover law enforcement, emergency dispatch and other public safety costs. He said it is doubtful that state legislators in Oregon will follow the lead of their counterparts in Washington and impose extra fees if there is enough revenue to cover current expenses.
"This measure will create specific fees related to the percentage of sales that a business has," said McCormick. "It will fulfill what the state currently has and remove the cost of management."
He said the association felt the need to act independently of the task force because of the timelines involved in getting a measure on the ballot.

In order to qualify for the November 2014 election, he said 1,000 signatures have to be gathered on the five initiative petitions — he expects that to be done by next week — and that will trigger the beginning of a formal process. Oregonians for Competition will then craft a formal proposal that will have to be signed off by more than 87,000 voters by July to qualify for the ballot. "We are very early in the process," he said.
Freeman said liquor stores in Oregon have been independently owned since the 1970s and only regulated by the state, which is different from the former system in Washington where the state owned and operated the stores.
He said the current system allows his store and others to feature a wide variety of liquors that won't be available in grocery stores due to limited shelf space. He said top-shelf bottles are typically kept under lock and key in larger retail outlets, making them inconvenient to access.
Meanwhile, he said job losses are rampant across the Columbia River.
The News-Tribune in Tacoma, Wash., reported earlier this month that more than 60 percent of the people who bought one of the 167 former state stores are no longer in business. The Washington Liquor Store Association, which represents store owners, says most of the rest are headed in that direction. Among those stores that are still open, many owe money to the state and their suppliers and are in danger of losing their licenses.
State lawmakers in Washington gave small liquor store owners a break in June by eliminating the 17 percent fee for sales to bars and restaurants. But larger retailers are now clamoring for the same break next year, which will negate the benefit.
Freeman said having hard alcohol available on grocery store shelves in the neighboring state has also brought the problem of large-scale thefts. The Washington Association of Sheriffs and Police Chiefs is so concerned about liquor finding its way into the hands of minors, or fueling profits for organized crime, that it is demanding an accounting of thefts by retailers, something not now required, according to a KING 5 television report in November.
Walla Walla police reported a 175 percent rise in liquor theft complaints in the first six months after privatization took place in Washington.
The liquor commission reports that Oregon's average theft rate under the current system is $9,206, or about one-tenth of 1 percent, about the same rate as Washington before privatization.
Rep. John Huffman, R-The Dalles, said the situation in Washington makes it imperative that the association's proposal be thoroughly vetted before it is sent to voters next year.
"I try to avoid strong feelings one way or the other but I'm passionate about making sure that whatever we do doesn't leave our small business owners hanging out to dry," he said.

"We want to nurture this industry as we have nurtured Oregon's craft wine and beer industries."
Huffman said it is important to keep alcohol out of the hands of minors, and not encourage problem drinkers, two areas of concern if sales expand to more locations.

"We need to proceed very carefully to be sure we make the right decisions and don't end up with serious unintended consequences," he said.