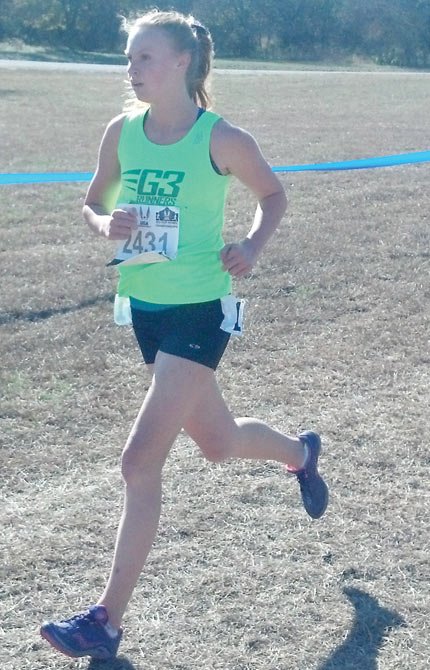 Three runners representing The Dalles – Jony Nelson, Emily Morin and Avery Cardosi – finalized their winter cross country campaign last weekend at the 2013 Junior Olympic Cross Country Nationals in San Antonio, Texas, with some good results versus some high-end competition.
Morin had the best finish of the trio with 60th place out of the field of 152 harriers, and Cardosi was right behind her in 65th place.
Given the heavy winds, the times were not overly fast, but still coach Bob Thouvenel liked what he saw from his top duo, who earned a state qualification earlier this fall.
"Both girls did a great job of getting in and racing well," Thouvenel said.
The course had a few small rolling hills with uneven ground on dirt and deep grass.
When looking back at the layout, Thouvenel said that the course was somewhat challenging in the fact that the start and finish was a 900 meter long stretch.
"It can be difficult for the kids to stay focused when you can see the finish line, but it takes a runner over three minutes to get there," Thouvenel added.
In their first round of races on Nov. 16 at the state Junior Olympics championships on the campus of Western Oregon University in Monmouth, Morin motored home at 20:13.5 to capture third place in the 15-16 division, and teammates, Cardosi (21:07.9) wound up in the top-10 overall.
The following week at regionals in Monmouth, Cardosi placed ninth at 20:59.8 in the 15-16 year old division. Morin qualified for Nationals in the 15-16 age group by chalking up third-place honors in 20:21.7.

If the steady Texas winds were enough of a detriment to speedy marks, Nelson had a more difficult time, as he battled illness on race day.
He was 124th out of 252 competitors.
Nelson's race went out very fast and the front pack went through the first mile in about four minutes and 43 seconds.
"He was right in the middle of the pack at the finish," Thouvenel said. "He actually did a good job closing the last mile and passing probably about 50 runners."
At his initial state attempt on Nov. 16, Nelson proved to be a competent competitor amongst his peers with an 18:31.4 for 15th in the 15-16 division to punch a ticket to the next rounds.
Nelson appeared geared for a top turnout at regionals in Western Oregon, as he turned in a 17:47 for 20th place in the 15-16 5k race.
With the dedication and further development of fellow TDW harrier, Maddie Wood, along with Morin, Cardosi and Nelson, the Tribe running program, both cross country and track figure to be major threats in the not too distance future.
"The kids are finally able to take a break after a long and successful cross country season," Thouvenel added. "All three are looking forward to track in the spring."