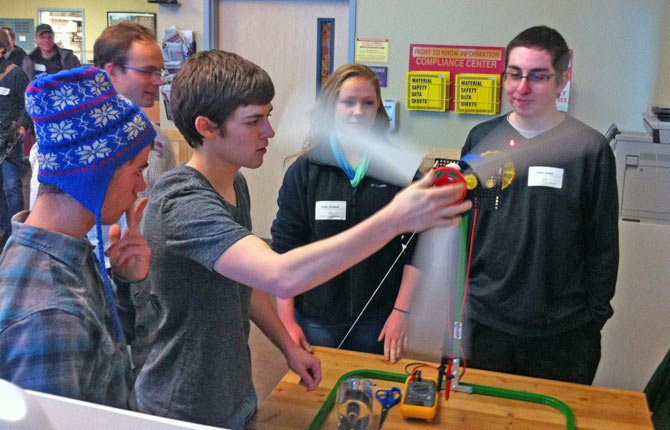 At a Dec. 9 party, Google announced the beneficiaries of its local Community Grants program.
The program supports organizations and initiatives that focus on some of the areas its leaders are most passionate about: science and technology education, carbon reduction and access to the internet. In 2013, Google awarded $200,000 in grants to organizations that "are working to make The Dalles and Wasco County a better place" including:
• The 4-H Club, which received grant funds to expand the current Wasco County 4-H technology Out-of-School time, including but not limited to, after school in-class enrichment and summer day camps. The program expansion includes working with the robotics instructor during class time at The Dalles Middle School, as well as the in-class ROV-ology at The Dalles Wahtonka High School.
• The Discovery Center, which received funds for their project to install and maintain a solar energy interpretive park. This project is a training opportunity for renewable energy students enrolled at Columbia Gorge Community College, and for an interpretive program designed to educate the general public about solar energy. By providing hands-on learning opportunities, this project enables electronics and math students to hone skills they need to obtain employment in the region's STEM (science, technology, engineering and mathematics) sector industries.
• Girls Inc., which received grant funds for an after-school STEM program for girls called Operation Smart. This program is aimed at developing girls' enthusiasm for and skills in science, technology, engineering and mathematics through hands-on activities where girls explore, ask questions, persist and solve problems. The Google funds are helping launch Girls Inc. STEM Girls Group in Wasco County.
• Hood River County Library District, which received grant funds for their project to digitize Wasco County Newspapers. Because of the grant, two Wasco County newspapers, the 1889-1900 issues of The Dalles Weekly Chronicle and the entire run of the Maupin Times (1914-1930) are being digitized.
• North Wasco County School District 21, which received grant funds for several programs in both 2012 and 2013:
• Project Maker (2012): Programming inspired by the Maker Movement. Students chose a project, created and marketed that product, then showed it at an event.
• Project Endeavor (2012): A research and development lab for ninth and 10th grade students where they work in project teams to solve challenges in the realm of sustainability. Math and science are woven in.
• SMART program (2013): SMART of Oregon implemented a pilot program last year providing e-readers to SMART volunteers to use with their students at Chenowith and Colonel Wright elementary schools. The district received additional funding from Google to enhance e-reader technology and associeted e-books purchases to help students increase reading and literacy skills.
• STEM Curriculum Development (2013): This grant provided supplies for STEM curriculum development at The Dalles Middle School. Currently North Wasco and Hood River County school districts are working together with Columbia gorge Community College to implement at STEM professional learning community.
• iStar (2013: The iStar program is a strengths-based family-focused educational program to develop technology talent in students on the high-functioning end of the autism spectrum.
• The Oregon Robotics Tournament and Outreach program, which received a grant for continued support and growth of the Jr. First Lego League, First Lego League and First Tech Challenge programs in five counties surrounding the Google Data Center in The Dalles. Last year, a total of 633 gorge students participated in the program, a 34 percent increase in student participation.
• Gorge Ecology Institute, which received a grant for their Gorge Explorers program targeting elementary schools in The Dalles that are not meeting state requirements in science and math.
• TechSTart, which received funds to provide STEM training programs for local teachers through the SuperQuest program.
Since 2008, Google has awarded more than $8.6 million to Oregon schools and nonprofits. When evaluating proposals, grantors consider: location and geographic impact, measurable and demonstrable benefit to the community, organizational capacity, integration with community resources, the focus area and innovation.