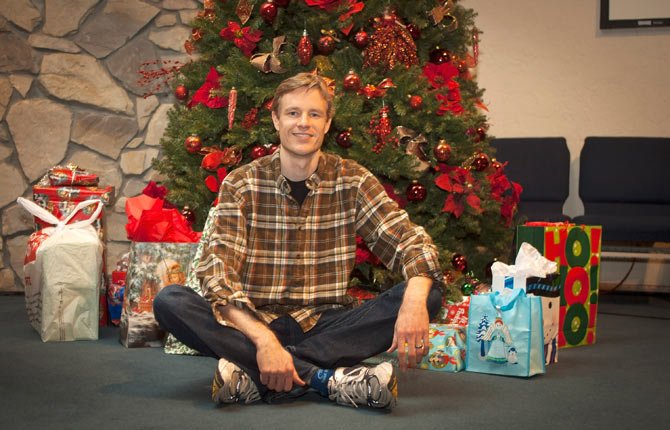 Tim Vance began a class at Gateway Presbyterian Church last Sunday by asking: "What are the first three words that come to your mind when I say it's 10 days before Christmas?"
Responses ranged from "thankful" and "Jesus" to "stress" and "anxiety," and even one honest, harried, three-word response of, "Oh my God!"
Some think of Christmas as a time of family, but in the same breath, they say, "When I think of Christmas, I think of drama."
Some even said they couldn't wait until Christmas was over.
Vance, associate pastor at Gateway, is in the midst of a two-week class on increasing the spirituality of Christmas and decreasing the stress.
"I think that's the weight or substance of Christmas. We live in this tension of it being both positive and in some ways negative for us," Vance said.
He encouraged making "small steps to begin to ultimately clear space for us to experience more joy and hope and love that we sing about at Christmas but that we don't actually experience."
"It's easy to have the sense that Christmas drives us, that the season comes upon us and dictates what we do and what we don't do, which is why we feel stress and look forward to the end of the season," he said.
"The point is to just begin to reflect on what it is we really want out of Christmas," he said.
"If we want to experience joy, love, forgiveness, God, significant relationships in this time, there are choices we can make."
He said any shifts made don't have to be an extreme, like no presents, or no tree, "but moderation is more of a wise approach."
But our very culture presents a barrier to that. "Every place has its struggle and this is our struggle in many ways: How do we live moderately in a very affluent culture?
"You don't want to be the Grinch that ruins Christmas," he said. "That's why it takes reflection. It takes some conversation within your families, to say, 'Are we allowed to do anything different?' Tradition can be pretty powerful."
But sometimes, he said, resistance is expected, but not found.
"It's not a bad thing that you want to buy gifts for the people you love because in some ways it's an expression of your love for them. The question is, is this the best way to show love and to have a close relationship with your friends and family."
He said advertisers who spend millions to get people to buy a product "aren't selling the product, they sell you an experience of joy, they sell you an experience of love. They're selling you your deepest desires, but what they're giving you is a thing that doesn't fulfill its promise.
"Commercialism I think can have a very negative impact upon us and our sense of happiness and wellbeing because it's never enough and it never gives us what it promises so we are constantly in this state of unmet expectations and desires and it's depressing.
"So at Christmas the question is, how can we begin to nurture those deeper desires in ways that connect us to those desires instead of the cheaper ways of buying a product that promises love, that promises joy, that promises happiness. And from a Christian standpoint, Jesus narrows it down very simply to loving God and loving people."
"We can't so easily just say, let's take the commercialism out of Christmas and the consumerism out of Christmas, I think there's something really important about that," he said.
Ways that people deeply connect can be through giving and receiving gifts, he said, "because many people experience love from receiving a gift."
Indeed, the commercial aspect of Christmas has long been complained about. Vance talked of recently watching the holiday classic, "A Charlie Brown Christmas," where Charlie Brown laments about the real meaning of Christmas and vows, "I'm not going to let all this commercialism ruin my Christmas."
The movie first aired in 1965.
Vance said it's not just the secular culture that can impinge on the significance of Christmas.
"Our religious culture can also create a debt for us."
There can be too many options to think about, all of them good.
"As human beings who have limitations, if we never say no to all that's good, we're going to end up doing these things with a huge sense of weight on us because we don't have the capacity to keep doing all these things."
"We've got to get to a point of saying no to the good things around us so we can experience the joy of relationships and knowing God," he said.