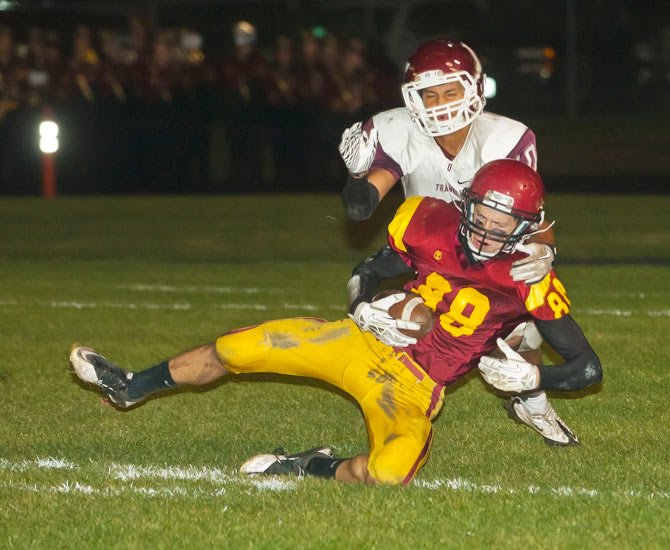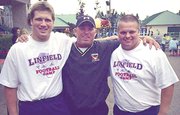 The Dalles Wahtonka football team finished its fall season with a final get-together Wednesday night at Spooky's Pizza in The Dalles to hand out awards for inspiration, dedication, effort and perseverance.
In all, there were four seniors, two juniors and three freshmen who were acknowledged in a banquet setting by first-year head coach Steve Sugg.
Leading the way with two awards was senior lineman and linebacker Connor Shortt.
The first-team all-Columbia River Conference player had his name called as the team's Outstanding Defensive Player and Football Athlete.
"In my mind, Connor Shortt was an all state kid," Sugg said. "He was first team all-league on offense and defense. The coaches in our league put Connor at the top of the list for best players."
From his defensive lineman spot, Shortt logged a team-high 60 tackles, 51 solo to with 14 for loss.
He had a sack, a forced fumble and a recovery as well.
"He was a heady football player and an outstanding defensive player," Sugg continued. "Talk about leadership, setting a great example, leading by example, a vocal leader, he is our hardest worker. (He was) a great kid to have for the younger kids to emulate and look up to. If they can follow his lead, we will be in great shape."
All-state linebacker and first-team all-league representative, Kauone Sefo, was always the one to offer words of encouragement before games, at halftime and at the end of games.
For those attributes, the Tribe coaches named the senior as the team's Most Inspirational player.
The senior racked up 47.5 tackles, 41 solo and 11 of those went for a loss of yards.
Sefo finished second on the team with 4.5 sacks and had two interceptions, five pass breakups, seven passes defended and two quarterback hurries.
Another senior, Mike Pifer, played several roles on the offensive line, moving from guard to center during the year.
His professionalism and work ethic made it an easy choice for Sugg to name Pifer as Outstanding Lineman.
With Pifer as a force down in the trenches, the Eagle Indians accounted for 2,203 yards and 20 touchdowns, to go with 331 rushing attempts for 1,683 and another 19 touchdowns.
"It could have gone to numerous guys on the line," Sugg said. "He gave us everything he had. He played to the best of his abilities at all times."
The final senior to receive honors from the coaching staff was Austin DeHart, who was a recipient of TDW's Outstanding Back award.
The veteran posted 38 catches for a team-leading 821 yards and another high of nine touchdowns. He averaged 21.6 yards a grab with a career-high long of 75 yards.
Junior Irvin Piza never played football before this season, but the junior stepped right in, provided depth, and good minutes on the gridiron as a tight end and special teams maven, so it was an easy choice to name his as the most improved player in the program.
"As the year went on, he got better and better," Sugg said. "I think he will be able to step in and play right away for us next year."
Special teams are critical to any teams success, and with Piza and junior Colton lee on board, the Eagle Indians were able to set their defense up in prime position.
Lee notched TDW's 110-percent award winner for his performance this season.
"Colton Lee is a great kid. Got the biggest heart on the team," Sugg said. "He comes to practice every day ready to go. He is our 'Rudy' on the team. He is not the most talented kid out there, but he has a lot of heart and desire."
Dominique Seufalemua, Jacob Wetmore and Jacob Halloran are a trio of freshmen that provide of positive glimpse to the future.
Seufalemua played quarterback and safety, and will take on first-string roles in 2014.
The youngster was voted on as the Tribe's Outstanding Freshman/Sophomore.
Halloran was called out as the Most Inspirational Freshman/Sophomore.
Sugg proudly called Jacob Wetmore's name as the Freshman/Sophomore 110-percent award winner.
"Jacob Wetmore another kid who worked extremely hard on both sides of the ball," Sugg said. "We are looking for some great things for him."