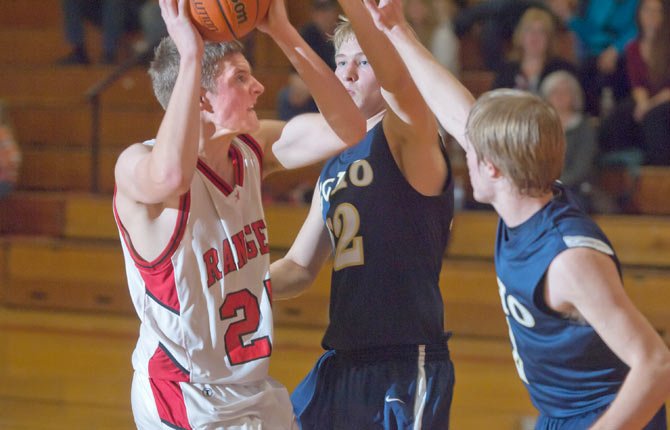 ­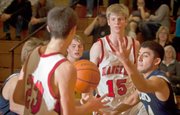 Dufur forward Bryson Caldwell called Friday's performance against Echo, one that could potentially spur his team to greater heights.
Caleb Morris had 17 points, five rebounds and four steals, Jake Kortge added 12 points and five boards, as the Rangers outscored Echo in every quarter of play for the 58-21 drubbing of the Cougars Friday in Big Sky Conference boy's hoops competition at Dufur High School.
"This is definitely a game we need to help us get a boost in our confidence," said Caldwell, who was two rebounds shy of a double-double with 11 points and eight rebounds. "We struggled in the past couple of years, but we are working hard every day in practice to make sure we develop into one of the top teams in the state. We are getting there. We have the talent on this roster to do pretty much what we set our minds to."
Up 8-5 after the opening frame, the Rangers got back to business in the second quarter for a game-changing 19-4 run to lead 27-9 at halftime.
In the final 16 minutes of play, the Rangers converted on 13 of 27 from the field to finish things with outputs of 15-9 and 16-3 for the 37-point triumph.
Freshman point guard Bailey Keever had five points and 10 rebounds, and teammates Connor Uhalde and Jon Buntin kicked in four points apiece, as the Rangers worked a 47-29 advantage on the boards, including a 21-8 edge on the offensive glass.
Defensively, Dufur forced Echo into 25 turnovers and turned those into 17 points.
The Cougars had one play hit more than two field goals, with Brock Moffit scoring seven points to lead the way.
"It is a good win for these boys, but at the same time, we also realize that we can use this game to pinpoint the areas we need to improve," said Dufur's first-year head coach Tony White. "This is the Big Sky Conference, so we know we need to play good, aggressive basketball to compete with some of these teams. We are slowly getting to the point we need to be to continue to be successful."
Dufur (3-1 overall) was in Klickitat, Wash., on Saturday, but then they go to the 1A Hoops Classic in Portland for play at 1:30 p.m. versus Mitchell/Spray.