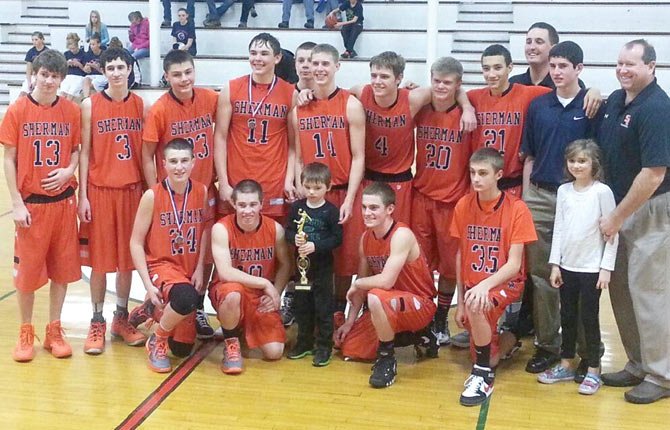 A day after matching wits for a combined 40 points, the Sherman Husky tandem of Austin Kaseberg and Max Martin took their game to another level.
Their outbreak of 46 points led their squad to a 61-34 drubbing of Monument-Dayville Saturday in the championship game of the annual Compass Classic Tournament hosted by Triad in Klamath Falls.
For their efforts, Kaseberg and Martin earned the distinction of being named to the all-tournament team.
"I'm very proud of the improvement we have made during the past two weeks," said Sherman head basketball coach Bill Blevins. "The kids have worked hard at learning a new system and are starting to execute."
In addition to the 2-0 record at the tournament, the Huskies swelled their record to an unblemished 5-0 when they score 60 points or more on the scoreboard.
The Huskies mounted an early onslaught in the opening frame with an 18-6 spurt to lead by 12 points.
After a 14-10 barrage in the second quarter, the lead was extended to 32-16.
Even though the Huskies were ahead by a healthy margin, they did not let up against a pesky Monument team, and added to the advantage with a run of 14-11 in the third quarter to go out in front, 46-27, with eight minutes left in the game.
Sherman capped the lopsided effort by using a 15-7 run to seal the win.
In all, the Huskies sank 22 field goals, eight from long distance. They also made 9 of 16 free throw tries.
Kaseberg finished with 29 points, while Martin was good enough for 17.
The Tigers managed 14 baskets, two from 3-point range, and worked a 4 of 6 extension from the charity stripe.
With the streak this weekend, the Huskies have won three in a row and four of their last five games.
In their winning streak, they have won by an average of 20.3 points a game.
After a brief Christmas break, the Huskies (5-3 overall) will look to extend their current trend at 7:30 p.m. on Friday, Jan. 3, in Maupin against the No. 11-ranked South Wasco County Redsides for the start of Big Sky Conference action.
"I'm hoping that we can continue our progress into league play," Blevins concluded.