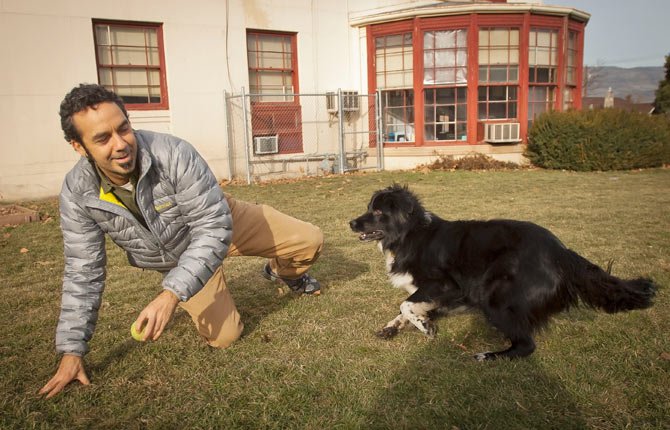 High school can be a stressful place sometimes, especially for students struggling to just make it through the day.
However, admidst all of the weekly stressors, there's at least one friendly face students can count on seeing in Brian Greeley's classes every day.
Meet Marley, The Dalles Wahtonka High School's' resident pet "counselor" and lead moral-support provider in Spanish levels one through four.
"He comes to school with me everyday," Greeley said. "He has his little den underneath my desk and patrols around the classroom to visit students while they're working."
"He's been coming for about five years now, so he knows every single one of them. I think it's really great for the students to have him around."
As part of the conditions of his invitation to come to school with Greeley, Marley had to pass an obedience test through the American Kennel Club.
"He walks right by my side during passing time and students often stop by my classroom during lunch to get some Marely love." Greeley said. "He even has his own staff ID card."
In his ventures outside Greeley's classroom, Marley likes visiting his favorite "snacking stations" around the school.
According to Sharlene Bonham, the counseling office is just one of those places on the list.
"He's such a well-
behaved doggie, you can't help but love him." Bonham said. "He has his own photo with the rest of the staff and all the kids light up whenever they see him."
When asked about what kind of effect he thinks Marley has in the classroom, Greeley said that he "helps to bring a more peaceful, calming atmosphere. He's super loving, so when a student's going through some tough stuff or is just having a hard time, he can be a real help to them just by being himself."