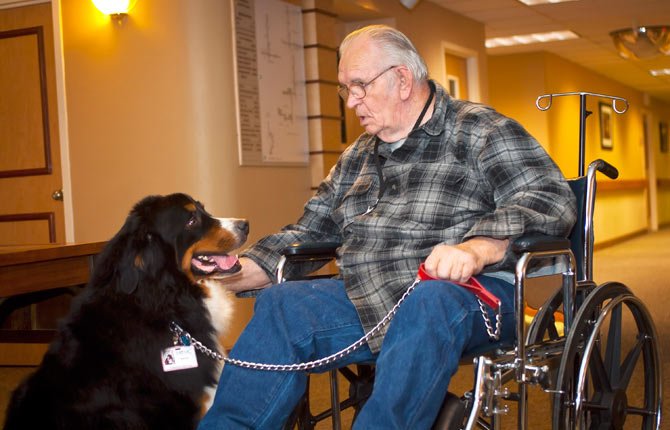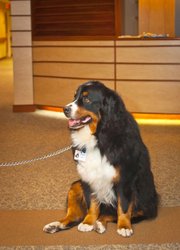 As most of us make preparations to head home for the holidays and get ready to celebrate, it's easy to forget that some people won't be able to leave their beds, much less make it home in time for Christmas this year.
It takes a special kind of heart to bring a bit of the cheer and warmth associated with the season to the bedsides of those less fortunate, which is why Patch Poirier really is "one in a million," despite the fur.
Gene and Mary Poirier, Patch's loving human parents, are willing to brave even the roughest weather of the season to bring Patch—and his big heart—to patients lodged at Mid-Columbia Medical Center.
Every Friday, the Poiriers make the 30-mile drive to The Dalles from their Wasco home to have Patch visit dozens of patients who could use a little extra cheer in their lives.
"We've been volunteering a little under a year here," Mrs. Poirier said. "And every time he walks through the door and they reach out to pet him, you can really tell by the looks on their faces that it's important we keep coming. It's hard not to love Patch."
At 130 pounds with big brown eyes and a massive amount of hair, Patch is certainly a lot of dog to love. A Burnese mountain dog, the Poiriers said he was bred for both cold weather and companionship.
"He has this built-in intuition that makes him great with all ages," Mrs. Poirier said. "And such a gentle nature, he really is perfect for his job."
According to MCMC's Chief Culture Officer and another of Patch's fans, Joyce Powell-Morin, the hospital's Pet Visitor Program has been going strong for over 20 years.
"It's a great program and really offers something special to the patients," she said. "We have a very thorough selection process and always make sure to ask patients beforehand if they would like to see Patch, although they almost always do!" She laughed. "He's been coming long enough that he knows where all the treat stops are and makes sure to say hello to all the nurses whenever he's in... He has us all pretty well trained."
"He's my best friend," Mr. Poirier said. "He never leaves me."
A patient at the hospital himself for "a number of health problems" over the years, Mr. Poirier had the opportunity to see visitor dogs in action again and again in the past.
"It's what gave me the idea to bring Patch into all of this," he said. "While I was here, I kept thinking, 'Hey, I've got the perfect dog for this!'"
Poirier said Patch often pulls him, wheelchair and all, up and down the hallways during their weekly visits. The mountain dog even sports his own visitor's badge, which he wears proudly around his massive neck whenever he's working.
"I enjoy teaching him things. I used to train horses, so I decided to train him a lot like I would train a horse… He's about as big as one, anyway," he laughed. "He knows how to walk beside my wheelchair. He's incredible. There's never been a moment where he hasn't been the gentlest soul in the room."
When asked what kind of affect Patch generally had on the patients at MCMC, Mr. Poirier said it was the type that could be immediately felt.
"One time, there was this lady in a room all by herself, and she just about fell out of bed when she leaned over to hug him. Before we left, she told us he'd made her day. That's the kind of thing we're here for."
"He's a great therapeutic distraction for the patients," Powell-Morin said. "For a few minutes, people can forget about their worries and the pain they're in, and just feel loved and be loved for a while."
"He really is bred for love and companionship," Mrs. Poirier said. "If you're standing or sitting somewhere, he'll come right up beside you and stand or sit with at least one part of his body always on or next to your foot. It's like he wants to be so close he almost wants to be a part of you, and I think that kind of affection can be really healing."
Providing a calm, loving atmosphere for patients is all part of Patch's job description and, according to the many who know him, he does his job incredibly well.
"The moment we got him as a puppy, we knew we'd come across something very special," Mrs. Poirier said. "He's part of the family. We can't imagine life without him now."
After the first of year, MCMC will be conducting another Pet Visitor screening opportunity for those interested in volunteering, "So be sure to watch the paper for the upcoming schedule!" Powell-Morin advised.
For more information about volunteer opportunities like the Pet Visitor Program at MCMC, call (541) 296-7288 or email volunteer@mcmc.net.