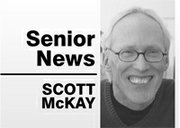 During this season of peace and good will, it is often a good time to reflect on how we are all far from perfect and complete and to paraphrase Eleanor Roosevelt "in need of both love and charity."
And neither are we totally independent — nor should we want to be. The African word Ubuntu which means "I am what I am because of who we all are" describes the relationship we have with others; the natural interconnectedness where we both give and receive, as we help others while others help us. This interconnectedness makes us more complete human beings and stronger communities as we share our strengths and talents to offset our weaknesses.

But as we learn to accept more help, we can still continue to find our own ways to give back, to stay interconnected in the give and take of life.
So here at the end of the year, I want to thank all of you who are giving back in your own personal ways — both large and small. Those of you who offer a helping hand and a friendly smile, who are quick to forgive and slow to anger, and especially you who spread laughter and good cheer -by telling some really bad jokes.
And at the Mid-Columbia Senior Center there are so many to thank, starting with all the volunteers and members show support in many ways. They are the backbone of the center — and, most of the time, the brains too. And all the folks at Meals-on-Wheel. It is not easy to share a space (Have you ever tried to share an apartment?) It takes a tremendous amount of respec, trust and laughter to make such a close relationship work.
I also want to thank all the fine folks who work at the many community organizations who are there to support older adults: the Area Agency on Aging, Aging and People with Disabilities, OSU Extension, Mid-Columbia Community Action Program, Columbia Cascade Housing, MCMC, Northern Wasco County Parks and Recreation to name a few.

Although we are far from perfect, we can make a better place for all of us to live.
The cap made famous by Fess Parker in the Disney mini-series Davy Crockett (which many of us young boys of the 50's had to have) was the coonskin cap. And the doll that could both "drink-and-wet" was the Betsy Wetsy doll.
And for the last Christmas related "Remember When" question, the Academy Award winning Miracle on 34th Street was filmed in 1947 and starred Maureen O'Hara, John Payne, Natalie Wood and Edmund Gwenn who played Kris Kringle.
What was the name of the department store that hired Kris Kringle and - to make it a little more challenging – the name of its competitive rival?

E-mail your answer to mcseniorcenter@gmail.com, call 541-296-4788 or mail it with 21 bags of letters addressed to Santa.
Well, it has been another week of Christmas lights and the Christmas carols that Santa brings. Until we meet again, as the Irish would toast: "May your neighbors respect you, trouble neglect you, the angels protect you, and heaven accept you."
"What is Christmas? It is tenderness for the past, courage for the present, hope for the future. It is a fervent wish that every cup may overflow with blessings rich and eternal, and that every path may lead to peace." ~Agnes M. Pahro
Menu
Wednesday (25) Meals-on-Wheels Closed
Thursday (26) Chicken Burgers
Friday (27) Philly Beef Saute
Monday (30) Chicken Parmesan over Noodles
Tuesday (31) Pork Roast with Mashed Potatoes and Gravy