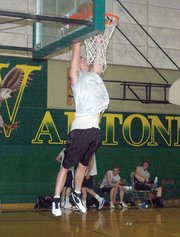 The countdown to season eight of the Gorge Adult Hoops League begins.
League commissioner and player Brian Stevens has put the finishing details in line for the start of the spring league campaign with 12 teams vying for bragging rights in search of a championship.
That of course is easier said than done, especially with Steven's The Dalles team dominating play by winning several of the league crowns overall.
So what has been the secret to success?
Stevens feels that in many ways the success lies in the team-first persona. There are no egos, nobody cares who scores the ball and throughout the roster, the player roles are defined accordingly and adhered to without conflict.
"Our team doesn't worry about winning during the season," said Stevens, a point guard. "Most of our guys miss three games or so, but when it's playoff time, we are all there and everybody knows their role. It's fun to play with the group we have. (They are) all good community people."
Alongside Stevens are local pastor, Tim Vance, and orthopedic surgeon, Charlie Petit. Sherwin-Williams manager Ken Sandell along with swingman Matt Herriges, owner of Optimist Printers, and starting center Kevin Dale, chip in on both ends of the hardwood.
Petit, of MCMC, is a firm believer in the program and all of the benefits it has to offer.
Petit is the league's top hoops players.
"I would say the league is a fantastic way for us to network in the community, build friendships, have fun, and stay in shape," Petit said. "It is really a great way to get folks from all around the gorge together in a fun and competitive atmosphere."
Although the number of teams has shrunk a bit from the spring season, Stevens likes how things have been set up roster wise.
He said that having 12 teams instead of 15, means the better players have joined other teams to make up rosters that are more formidable.
That lends itself more parity and a league that is competitively balanced across the board.
One player who has seen the fruits of Stevens' labor is Rick Vaughn, a guard from the Columbia Gorge Knights.

"The Dalles Men's Basketball League has been a great thing for me and my team," Vaughn said. "To have an opportunity to play and compete in something that is community organized feels great to be a part of. I know that night-in and night-out everyone on my team wants to play team ball, and that's something you can't teach."
The league boasts teams hailing from across the gorge, as groups have been formed from The Dalles, Sherman County, Hood River and Dufur along with four Washington-area squads from Stevenson, Goldendale, Trout Lake and White Salmon.
There is plenty of local talent on each of the teams.
With so many top talents in the mix, Stevens gave a few examples of some wild finishes he has witnessed in the past.
"Some of the games are extremely entertaining," he said. "The best matchups over the last five seasons have been The Dalles, Columbia Gorge Knights, now Pee Wee's Auto Detail, and the Indian Outlaws."
The signup deadline is Jan. 31 at 7 p.m., and Stevens welcomes all players of all skill levels to join.
If an athlete needs help finding a team, he will match players up with a group that fits their ability.
The season starts Saturday, March 2 and all games are played from 1:15 p.m. through 7:30 p.m. at the Wahtonka High School gymnasium.
The playoff rounds start with the top eight teams fighting it out for a chance to advance.
The championship game is in July.
"We can't wait for the season to start," said Stevens. "I know every team feels the same way. We have the OSAA officials and a couple times they have told me that the speed of our games are very fast, making for a game that is fun for the local public to watch."
With the structure of the league built on a solid foundation, Stevens emphasized that the league does not continue in its soaring popularity without the due diligence of Scott Peters.
"This league happens for one reason and that is Scott Peters. He organizes the officials for our games," Stevens concluded. "Without Scott and our officials, there would not be a league."
All games take place in The Dalles, and spectators are welcome to attend free of charge.
To sign up for the league or for additional information on what is required to join, interested parties can e-mail Stevens at gorgehoops@gmail.com.