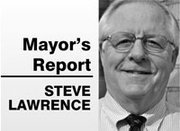 The city's planning department has begun the process of reviewing both standards and finances for constructing residential roads, curbs, sidewalks and other infrastructure. The term infrastructure also refers to water, sewer, waste water systems as well as roads. This is a discussion that has been going on for some years.
There are two subcommittees, one for standards and the other for finances, each made up by members of the planning committee and public members. If you have thoughts about these discussions please contact the city or get a list of public members and let them know your concerns. Whatever the two committees come up with, there will be a need to work with the county road committee which is also looking to fund roads they are responsible for. This is a discussion that will happen over the next six months.
Other issues that need to be decided are: who is responsible for which roads; what happens after the city annexes county roads; should the city continue to be responsible for roads within the Urban Growth area and whether any new roads should be built while existing roads are in disrepair.
City staff has been asked to review all the current urban renewal projects and assess how those projects reflect the goals and requirements of the urban renewal plan. In January, the Urban Renewal Advisory Board and the Urban Renewal Agency will discuss whether the plan needs to be updated as a result of this review.
The Outreach Team is a group of representatives of public entities in the Mid-Columbia area, who travel to Washington, D.C., each year to talk with the congressional delegation on both sides of the river and with various agencies to secure funding for programs and projects that will benefit the community. As a member, I will be discussing these issues with other members in the next few months. The trip will be scheduled for April 2014.
Rather than appoint a new bike committee at this time, I have chosen to first hold a series of discussions with people interested in cycling. The Bicycle Master Plan needs to be updated, but it is important to find out what the public thinks are top priorities for cycling. Issues include bike paths, dangers to bikes, the effect of puncture vines on cycling, the coming bike pathway through the gorge and hosting cycling events in the gorge. If you are interested, please feel free to contact me.
During the coming year, there are a number of volunteer opportunities for serving on official city committees. If you are interested, please contact Julie Krueger, the city clerk. My telephone number is 503-807-0724 or email me at SeLawrence1963@yahoo.com.