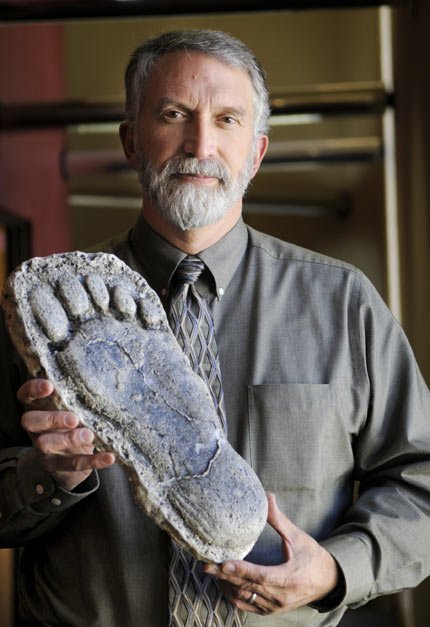 Does Sasquatch exist?
Rumors of a large, hairy, man-like creature roaming the Cascade Mountains have existed for centuries. Where does myth end and science begin?
Columbia Gorge Discovery Center presents "Sasquatch Revealed," a new exhibit opening Saturday, Dec. 28. An evening dinner presentation is sold out, but an afternoon presentation at 3 p.m. has been added to the schedule for those who still wish to hear Dr. Jeff Meldrum, Chris Murphy and Thomas Steenburg. Cost is $15 for non-members, and $10 for members. Space is limited.
Call 541-296-8600 Ext. 201 for more information or visit www.gorgediscovery.org. The exhibit will be on display through Feb. 23.
This exhibit draws from all the available scientific research and evidence compiled to date on the hominoid known as Sasquatch, or Bigfoot. The display, curated by Christopher Murphy of Vancouver, British Columbia, will be at the Columbia Gorge Discovery Center through Feb. 23. Explore audio segments, view a gallery of footprint and handprint casts, reports of sightings in Wasco County and United States, newspaper reports, comparative skulls, and artist renditions.
Dr. Jeff Meldrum, professor of anthropology from Idaho State University, will give a talk Dec. 28 and sign his acclaimed book, "Sasquatch: Legend Meets Science." Meldrum's book takes a detailed look at the scientific DNA and forensic evidence gathered on Sasquatch.
Meldrum has published numerous academic papers ranging from vertebrate evolutionary morphology, and the emergence of bipedal locomotion in modern humans. Dr. Meldrum is also a co-editor of a series of books on paleontology.
Chris Murphy became involved in the Sasquatch mystery when he met René Dahinden in 1993. He then worked with Dahinden in producing posters from the Patterson/Gimlin film and marketing them along with Sasquatch footprint casts.
In 2000, Murphy embarked on a project to assemble a comprehensive pictorial presentation on the Sasquatch. This initiative led to publication of his book "Meet the Sasquatch," written in association with John Green and Thomas Steenburg, and his Sasquatch exhibit at the Vancouver, B.C., Museum.