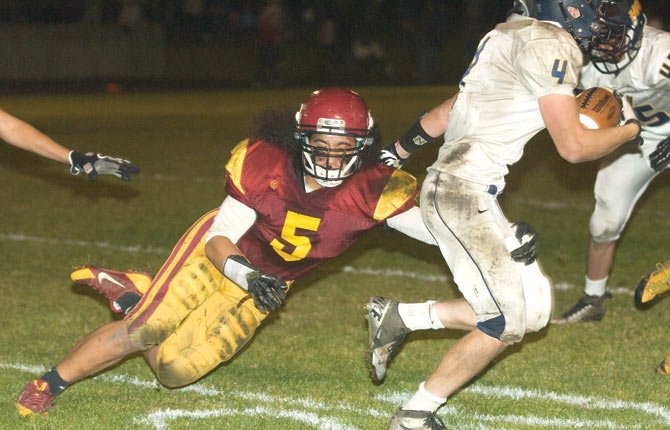 Never in his wildest dreams did The Dalles Wahtonka senior Kauone Sefo believe he would be part of an esteemed fraternity of all-state football players.
The TDW linebacker not only achieved consideration as the Columbia River Conference's first team all league class as a linebacker, but he had his name called as the 5A classification's all state honorable mention for his play at linebacker.
He is the first Tribe gridiron player to earn this distinction since the 2010 campaign.
"God didn't bless me with talent like most of the guys on our team, but he taught me to never give up and to work for it," Sefo said. "I would like to thank the Lord and my parents for never giving up on me."
Much of what Sefo has been able to accomplish started innocently enough with the countless hours and days logged in the weight room.
He started taking the offseason much more seriously after his sophomore season when he was the only one of the now senior group on junior varsity.
"That just made me determined to get to the top," Sefo said.
The Tribe senior credits Lay Low I'aulualo for introducing him to the sport.
Sefo also recognizes the efforts put in by TDW assistant coach and Training For Success guru, Ron Diede, for dedicating time in an effort to making him a better football player.
"In 26 years of coaching youth sports, I have never coached a harder worker," Diede said. "I have never coached a kid that was so focused on improving his game on the field, all the while remaining one of the most humble and gracious individuals I have ever been around. Kauone has proven that there is nothing a person can't do with hard work and a solid heart to guide them — nothing."
With the control at the line of scrimmage set by the maulers in the trenches, Sefo was afforded the opportunity to roam free from his linebacker slot with big numbers.
The senior racked up 47.5 tackles, 41 solo and 11 of those went for a loss of yards.
Sefo finished second on the team with 4.5 sacks and had two interceptions, five pass breakups, seven passes defended and two quarterback hurries.
"I think it is a great honor for Sefo to get an all state honorable mention," said TDW head coach Steve Sugg. "If you look at all of the kids that got those awards, the first and second team kids were all those who made it to the semifinals and the state championship game, so there were very few kids that got all state recognition if their team did not go far in the playoffs. I think it is a credit to Sefo and his hard work, dedication and his abilities as a football player."
Sugg added that Sefo improved by leaps and bounds as the season went on, as he played under first-year defensive coordinator Rich Belanger.
More than the hard work and solid citizenship, Sefo had a love for the game and showed an exemplary leadership for the younger athletes coming through the ranks.
Those attributes earned Sefo the Eagle Indians' Most Inspirational Player Award.
"I hope that those young kids realize how much Sefo set the standard here with his leadership by example and his hard work," Sugg said. "The younger kids who were involved in the program saw that. It should give them an added incentive to work hard as well."
In just his first year back as the coach, Sugg is hopeful that this is the beginning of a long list of all league and all state players.
Added to that, he has goals and aspirations of winning league titles, more playoff wins and possibly a state championship.
Maybe the legacy Sefo put in place could be the infusion of excitement this program and community needs to raise the bar even higher.
"I think it is great to have kids recognized at the state level," Sugg said. "It is a great reflection and representation of the program. Obviously, as we go on, we would like to have more kids recognized. I think we had other kids on this team who were probably worthy, but a lot of the all-state stuff goes to teams who go deep into the playoffs. I think as our program evolves and gets more wins and goes further in the playoffs, we will have more names to add to the list."
Sefo is one of a select few to have his name called to such a high honor. He spreads the love across the roster to his teammates, coaches, teachers and his parents.
Sefo offers words of encouragement to those who will take the program to greater heights.
"Do not go where the path may lead, go instead where there is no path and leave a trail," Sefo said.