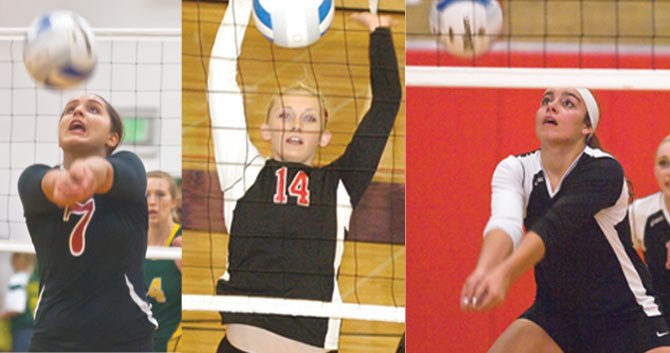 Alexa Macias, Teneille McDonald and Taylor Darden were linchpins for success this season as leaders of the Dufur volleyball program.
It is through their due diligence on and off the court that the Lady Rangers were able to win 31 matches and finish in third place at the OSAA state tournament.
That trio was recently named as part of the 1A all-state team, as voted on by coaches.
For the second time in as many years, Darden picked up a first team selection, while Macias and McDonald had spots on the second squad.
While the awards and accolades are a nice capper to a solid volleyball season, Dufur volleyball coach Kelly Darden called anything all-league or all-state a team award.
"All of these girls realize that volleyball is the ultimate team sport, and that without their teammates, their individual awards wouldn't be possible," coach Darden said. "The success of our program has always been built around a team-first attitude and doing and saying things to make each other better. These girls have great character and are not only leaders on their team, but in our school and community."
Taylor Darden makes it a trifecta
In her three seasons on the varsity roster, Taylor Darden has earned all-league and all-state recognition, but even with the high fanfare to her credit, the junior has always been one to put in much more work to attain a certain level of excellence.
"It just humbles me. I am so blessed to accomplish any of this," Taylor said. "I am thankful that I have the family and the team that I have. It makes me so happy. I am proud to be a part of this team."
This past season, the junior dropped a team-high 278 kills on 715 swings with just 94 errors, and she connected on 96.7 percent of her serves with 118 aces on 394 tries from the stripe.
Darden realizes that she needs to keep improving and not be content on what has been done in the past.

However, every year there have been areas where a different part of her skill set has improved to a higher level.
Whether it is her shot selection, blocking at the net or serving repertoire, Darden has shown an ability to pinpoint certain attributes to broaden in order to help the team succeed through the year.
With the departure of McDonald and Macias, both seniors, Darden's leadership will need to be amped up to lead the charge in 2014.
"There is always room for improvement," Darden said. "I want to play in college and I know I will have to work that much harder to get there. I am very excited for what the future holds for me."
Six of the 25 names on the list hail from the Big Sky Conference – so it is quite the honor to a competitive volleyball league that brings the best out in each other every time out.
"That is awesome that so many girls from the Big Sky made it because that is my league. I take pride in that," Darden said. "There are so many talented girls playing here. We push each other through the whole season and that is what makes us better. It is a huge honor."
Macias, the smooth operator
Much like having a great point guard on the basketball court or a stout leader at the quarterback position on the football field, having a dependable setter on a volleyball team is so important to offensive continuity.
For the past four years, coach Darden and her players have been spoiled to have such a fierce competitor in Macias at the setter position, doing all things possible to put hitters in prime position to slam down momentum-building kills.
"Setters are involved in every series and their decision making and consistent play is vital to a team's success," said coach Darden. "This year, Alexa really improved in her set selection, but also more importantly, her leadership for this team. I am so happy that her efforts did not go unnoticed by other coaches across the state."
As a whole, Macias dished off 394 assists on 414 attempts for 90.3 percent, and she was second on the team in serve proficiency with 79 aces on 394 attempts to go with just 20 errors.
The lefty tacked on 44 kills, nine blocks and dove on the hardwood for 89 digs.
"She never complains," Taylor Darden said. "She always works hard and she is always so willing to serve us. She works to give us the perfect sets and is our leader on the court. We always look to her for composure. I just loved playing with her. It has been so nice having a teammate who made everyone else around her improve so much. You cannot replace that. I am going to miss her."
From the long road trips to grueling practices and the running, Macias will miss all of the little moments most.
Because of sports, she has forged so many lasting relationships.
"I have gotten closer to some people over the years. That is something that you can take away from high school sports even if you do not play in college," Macias said. "You take away those relationships, and the skills — not only the physical skills, but also how to work as a team, how to work together, and how to keep your head up and push through the tough times. Those are important life skills that will help all of us in the future."
There is a promising crop of up-and-coming volleyball players in line to keep the legacy set in place by Macias, McDonald and Taylor Darden.
Macias has been well aware of that notion, so she made it a priority to leave it all on the court every time she strapped on the scarlet and white.
Maybe some of that rubbed off and inspired some of these young players.
"It is really nice to have people look up to us. It is a great feeling," Macias said. "I think if they are excited to play, it is great. It is always nice to have girls coming in that love the sport. That is one of the most important things to any team's success. You need to have kids that want to learn, who want to get better and are willing to do everything possible to help the team achieve more and more."
McDonald is back where she belongs
In 2011, Teneille McDonald capped off a year where her team secured a third-place state trophy with all-state recognition.
Last year, she could not get her name in the all-state mix, so she put in the added time necessary to help her team chalk up third place at the state volleyball tournament, and add her name to the esteemed all-state list.
"Last year was kind of a bummer, so I went out and pushed myself even harder and I am pretty excited with the result," McDonald said. "Mostly I was just pressing last year. I think I was in a little bit of a fog. I made sure that I worked extra hard and my teammates helped me so much. Everyone rallying around made me a better player and teammate. I owe it all to them."
McDonald, a perennial Big Sky first-teamer and now two-time all-state recipient, led the Rangers in blocks with 35 and finished second in kills and digs.
She rapped out 232 kills on 657 attempts, and added 157 digs on 230 tries, while dropping 74 aces and a serve percentage of 91.5 percent.
Having such a game-changing force at the net has been a nice weapon for coach Darden to have over the past four years.
McDonald's quickness and athleticism made her stand out of the crowd.
Darden said the senior brought much more to the table than just kills, serves and digs.
"What has led to her success has been her determination to get better in every aspect of the game," coach Darden said. "Each year, she comes in with goals to improve on different aspects of her game, both physical and mentally. She has improved so much over the years and clearly her hard work and determination has paid off, as she has impressed coaches across the state."
Admittedly, McDonald said she is doubly hard on herself, so to have a stake in four Big Sky West division crowns, two state trophies and some individual accomplishments are something she is most proud of, as she is set to graduate in June.
"One of my biggest things is leaving a good name for this school," McDonald said. "You aspire to leave something for people to remember you by. I think we did that by putting a couple of trophies in the box, which is always a good thing. I am really excited about that."
When it comes to sharing in the excitement and the many highs, lows and everything in between, McDonald could not dismiss the family element.
At every match, home or away, she has had her father Chad and mother Tami in the stands showing support.
It is a family thing where everyone gets excited.
With a laugh, Teneille said her mother gets more excited and nervous for games than she does.
"Every step of the way, you could not have asked for better parents. Not just with sports, but with class stuff, they make it a priority to be there for me, no matter what," Teneille said. "I am so thankful that they have been able to share everything with me. These are memories we can share forever. I am so happy that I have had them in my life for all of it."