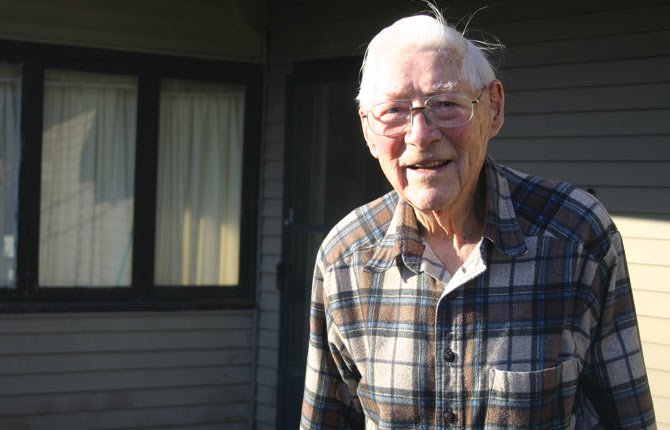 Tygh Valley — Quail scurry into the shrubbery at Norm Hyder's place and a large turned-under garden plot tells of a fall bounty now long past in the winter chill.
It's a peaceful setting for Hyder, 95, who piloted a B-25 crew on 92 bombing and strafing missions during World War II, then went on to become a pioneer in the Eastern Oregon frozen food industry.
It's no surprise that Hyder settled in a rural part of Wasco County. He grew up on a farm near Buell, Idaho. When he wanted to relocate midway between his sons' families in Boardman and Portland, he opted for small Tygh Valley rather than big The Dalles, settling in the old parsonage of the former Methodist church. He was eventually joined by his friend and companion, Cory.
"This was ideal for me," Hyder said. "There's a woodshed and I like to burn wood and there's a big garden spot. I decided just to stay right here."
Hyder was still in Idaho, working his way through school at the University of Idaho in Moscow by working as a J.C. Penney shoe salesman when the stirrings of war began half a world away.
"I was there when Hitler started into Poland and started taking other countries," Hyder said. "I knew we were going to be in war very shortly, so I decided I'd better get into the military someplace."
Hyder had joined the National Guard at age 16 in Buell and stayed in when he moved to Moscow.
"They were getting ready to ship out," he said. "The war hadn't actually started yet, but was very shortly thereafter. My enlistment was up. A lot of the boys wanted me to re-enlist and come with, but I said, 'No. I'm going to get into the Air Corps and I'm going to be up there looking down at you.'"
But before he could get into the Army Air Corps Cadet Corps, he had to undergo rigorous physical and mental examinations — even more physical tests than usual because he had tuberculosis as a child and had spots on his lungs. But eventually he passed the physical in Salt Lake City, then took and passed a 6-hour mental test in Boise.
The Cadet Corps was for pilots in training.
"You have to go through three flight schools, first for smaller airplanes, next for a bit bigger and the next a bit bigger again," Hyder said. "If you make it through all those, then they send you to an Air Corps base and you're made an officer."
Promoted to second lieutenant, Hyder headed for Columbia, S.C. for training on B-25s.
The B-25 was a medium fighter bomber used by many Allied air forces in every theater of World War II and afterward. It saw service across four decades. The twin-engine bomber carried eight forward-firing 50-caliber machine guns, two rear gun turrets and bombs. Its crew included a pilot, copilot, navigator and two rear gunners.
"It was a pretty good-sized airplane, and very, very noisy," Hyder said. 'That's one of the reasons my hearing's not too good."
After training in South Carolina, Hyder and his fellow pilots were ordered to pick up their new airplanes in Georgia and fly to California.
"The airplane I got was a bad airplane," Hyder said. "It wouldn't fly straight all the time, it would just weave back and forth. I got to California and told them I was not about to take this airplane into combat because it will not fly straight."
Engineers from the factory in California worked on rerigging the plane so it would fly better, then encouraged Hyder to test it out. Hyder's copilot, a gunner and an ATC navigator went with him on the flight.
"I was flying along only at about 2,000 feet — not very high — and all of a sudden there was huge explosion and it flipped right over on its back, so I had to Split S [an air combat maneuver to right the plane] out of it and I barely missed the ground. I was in a cow pasture and I looked out and the cow was right next to me," Hyder said.
He came upon an air field and made a crash landing. Everyone aboard quickly escaped the plane to avoid a potential explosion.
Hyder later learned that one of the nacelle doors was opening and closing during flight, causing the plane to wobble. The explosion aboard the plane occurred when air caught the open nacelle door and ripped it off. Bigger than Hyder's couch, the door flew through one of the engines, knocking two blades off the propeller and unbalancing the craft.
When Hyder finally got another plane, he was bound for Australia — a challenging trip involving five legs over five days.
"Our first trip was to Hawaii," Hyder said. "We had to fly just a certain way to get there. We had already checked the system out. We had to start out at 166 miles per hour, which is slow for a B-25. We would fly at 166 for so long, then could increase it just a little bit."
The special flying method was to assure the planes had enough fuel to make the trip.
"It took 13 hours to fly to Hawaii," Hyder said. "When I got there, there wasn't enough fuel to measure. We actually had one crew that didn't quite make it. They went into the ocean several miles off the coast of Hawaii and we were never ever able to pick them up. It was a very, very long flight."
From Hawaii, the flyers went to Christmas Island, then American Samoa, then the Fiji Islands before finally reaching Australia.
"We were just in Australia for a short time and the Japanese were in Port Moresby [the largest city in New Guinea]," Hyder said. "We had to wait there for a while until the Australian Army pushed them out of Port Moresby. The engineers then had to build some air strips for us, one for each squadron, four squadrons in a group."
Hyder was part of the 499th Bombardment Squadron, the last assigned to the 345th Bombardment Wing, part of the Fifth Air Force, according to Wikipedia. They were established in late 1952 and were engaged in the New Guinea Campaign to attack enemy targets in New Guinea in support of General MacArthur's campaign using low-level strafing attacks.
"Our mission was to kill Japanese," Hyder said.
The island of New Guinea has two mountain ranges with a deep valley between, where the local people lived in grass "bashes," as Hyder called them.
"We used to fly into that valley until we got to where there was an airfield, say, on the other side next to the ocean," he said. "We would fly up and just go over the top and go down on the airfield with eight forward-firing 50s."
The squadron would target the gun emplacements first, to eliminate the return fire.
"We were trying to eliminate their bases over there," Hyder said. "Finally, we pretty well did then we moved over to one of their bases because then we'd be closer to targets on both ends of the island."
The B-25 squadrons were protected by P-38 fighter planes flying high above so that they could dive down on any attacking Japanese Zeroes.
Where did the crews live?
"People were talking about the prisoners in Arizona living in tents and griping about it. Here we were in New Guinea, we lived in tents all the time," Hyder said. "We had two officers in a tent and four enlisted men in the tent. We all lived in tents."
Hyder flew 51 missions in New Guinea over the course of a year, then came back to the United States for a while and worked in training command.
"Which I didn't like, so I volunteered to go back," he said. "The next trip I went to the India-Burma theater. I flew 42 missions over there before the war was over."
The Zero fighters were notably absent from the India-Burma theater. Instead, the flyers worried about anti-aircraft fire from the ground. Their targets were bridges and trains.
"This really wasn't a war like in New Guinea," Hyder said. "There was some anti-aircraft fire, but that's all. We tried to destroy all the transportation facilities we could."
Hyder returned as ranking officer, leading his squadron into battle. He had left New Guinea as a captain and returned to the India-Burma Theater as a major. He flew 42 missions there before the war ended.
He returned to the United States as a leader of men and eventually became a business leader in the private sector.
"I started a company and took it successful," he said. "It wasn't that difficult for me to [come back to a normal life]. I had the opportunity to go in American Airlines as a pilot, but I decided, hey, I'd get a home someplace and then I'd be gone most of the time. I decided I didn't want that."
Instead, he bought 40 acres of land in the Metolius region of Oregon, where a new irrigation project was under way. The land was covered with juniper, so Hyder bought an Allis Chalmers HD 10 bulldozer in an army surplus lottery and set about pushing down the small trees.
"Within about a half-day's time, somebody stopped by and said when I get through here could I come and push trees on his property," Hyder said.
There was plenty of land to clear and instead of farming, Hyder started a partnership with his brother, between them running the bulldozer 20 hours a day.
"We eventually figured out that we took trees off 7,000 acres of junipers," Hyder said.
The two brothers eventually went into the warehouse business with a third man, whom they eventually bought out.
From this start, Hyder built up the company that would become Gourmet Food Products with two French fry manufacturing plants, one in Metolius and the other in Boardman.
In 1978, he sold the company, though he stayed on the board of directors for two more years. In 1980, he bought some timber land in California and built his own home there.
"I spent time on the ranch riding horses," he said. He lived there 20 years, until he moved to Tygh Valley to be closer to his family, and to enjoy the area's hunting and fishing.
Throughout most of his life, Hyder continued to fly. He estimates he flew until the age of 80 — even after his doctor would no longer clear him for a pilot's license — flying into and out of small airports to avoid any questions about his license.
As soon as he made enough money, he bought an airplane.
"It was a low-priced, slow-flying Cessna Tripacer," he said. "It wasn't expensive. I think I paid $3,500 for it."
As soon as he became more financially established, he bought a Beechcraft Bonanza.
"It was a beautiful airplane," he said. "It is still probably one of the best private aircraft in the air, I think. I used to fly it back and forth from Madras to the new plant in Boardman. When I left and sold out, I took it to California. I used to fly back and forth to Oregon often."