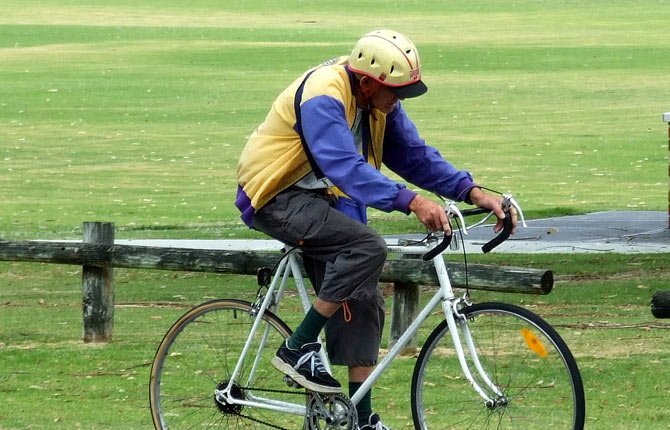 Portland may have already won the crown of Bike City, U.S.A., but The Dalles wants to tag "bike-friendly" onto its moniker, too.
Mayor Steve Lawrence is working with local cycling enthusiasts to look at ways to improve facilities for cyclists and encourage more two-wheeled tourists to visit our fair city.
However, making that happen in a car and truck town requires more than just the mayor's say-so. It requires planning, strategy and, ultimately, at least some new infrastructure.
Not very long ago at all, in The Dalles (and most other towns) cyclists were expected to share the road with motorists — and follow the rules of the road. If traffic got a little dicey, they could dodge onto the sidewalks and share with pedestrians.
That strategy worked for decades. On occasion a bike and car, or bike and walker would tangle, but that was usually the result of carelessness or bull-headedness by one party or the other.
As the number of bikes on the road continues to grow, that became a less appealing option and conflicts between motorists and cyclists began to grow. In some cases, drivers developed a bad attitude toward slow, stop-sign-running, lane-hogging bikers, while riders became disenchanted with road-hogging, emission-spewing, failure-to-yield drivers.
The public administration solution to that conflict was to separate the two by marking bike lanes along major thoroughfares.
In The Dalles, with the exception of the Riverfront Trail these lanes have seen minimal use. They're often covered in gravel or lead into intersections that can be treacherous on two unmotorized wheels. And on busy West Sixth Street, they're often blocked by parked trucks, RVs or other impediments.
Major cities have been stepping up their game where bicycles are concerned.
Frigid, snowy Chicago plowed its bike lanes this winter. But those kinds of efforts cost money and a number of cities are starting to grumble about that fact.
Portland's City Club recommended this summer that the city institute a $25 tax on bike purchases to pay for study and planning. One Chicago councilwoman proposed a tax there, but got a less than supportive response. Others around the country have done the same.
But in urban communities, even small urban communities like The Dalles, it's important to remember that bicycling offers a solution, more than it does a problem.
Replace five solo drivers in five cars with five individuals on bicycles, multiply that scenario a dozen times over and pretty soon you don't need to expand roadways. And city air quality starts to see improvement.
Sure, the Boardman coal plant is our biggest fixed source of pollution during those throat-grating The Dalles winters, but automobile traffic is a big contributor. If more people left their gas-burners at home most of the time, we'd have fewer unhealthy emissions. We'd also save a bunch of money on gas and have a healthier populus in the bargain.
A portion of federal gas tax money comes back to states every year for alternative transportation. It does so, not out of some hazy altruistic aim, but because it can save cities and states cold, hard dollars and cents.
The Dalles leaders are smart to be looking at ways to make the town more friendly toward bicycles.
With completion of the Historic Columbia River Highway restoration on the horizon, with portions dedicated solely to non-motorized traffic, some of those Portland cyclists might be looking to The Dalles as a destination city.
But the city should also be looking at more ways to encourage local bicycle traffic. From one end to the other, The Dalles is a ridable city. Its flat areas are broader and hills gentler than a lot of our nearby neighbors.
Cycling is a healthy activity that can accommodate people of all ages and fitness levels. It works for fun and for transport. It reduces roadway wear and tear.
Encouraging bicycle use is a winning strategy.