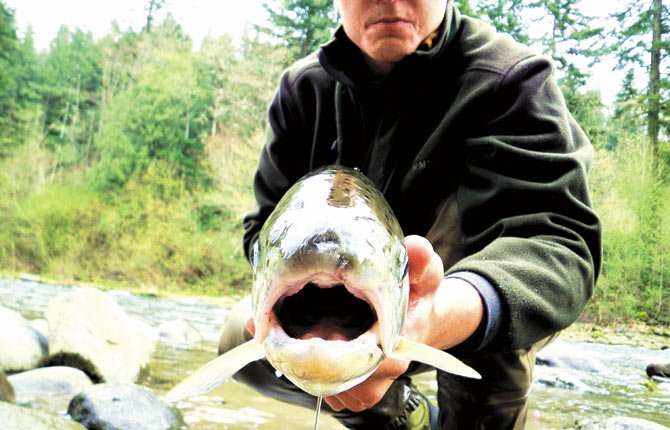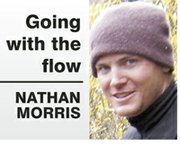 Winter fishing can be a test of your will and dedication to the sport.
It takes serious commitment, and perhaps just a touch of insanity, to keep fishing when the temperature drops below 40 degrees and the clouds open up to unleash a fury of rain, sleet, and snow that maybe only Noah could relate to.
Here in the Pacific Northwest we are blessed with perhaps the greatest of winter fisheries. Winter steelhead are tough fish, there is no way of getting around it, dwindling numbers of fish combined with higher numbers of fisherman stack the odds against the fisherman.
Additionally, the angler has to fight constantly changing water conditions, cold weather, and perhaps even colder water. However, all of this is what makes winter steelhead such a great trophy.
Steelhead fishing is a great way to kick off the New Year outdoors. As a rule of thumb you will be targeting hatchery fish through the month of January, when February comes around there will be a good mix of hatchery and wild fish, and by the time March is here it will almost all be wild fish.
These wild fish are the true monarchs of the river, but given the time of year, let's take a look at some of the best hatchery steelhead fisheries in the state.
Eagle Creek: Eagle Creek, the one flowing into the Clackamas River, not the one flowing into the Columbia River, offers very consistent fishing for hatchery steelhead during the months of January and February.
I love small stream steelhead fishing, and Eagle Creek has long been one of my favorite small streams in the state. Although much of the creek flows through private land, there is relatively good access at Bonnie Lure State Park, which is located at the mouth, Eagle Fern Park, mid-way up the creek, and at the Hatchery where there is good hike-in access.
Holding water in Eagle Creek is of clearly defined holes, and less clearly defined pocket water.
Just remember that steelhead holding water is two to eight feet deep, moving at a walking speed, and has some sort of structure.
This holds true for a run that is two hundred yards long, which you will never find on Eagle Creek, and it also holds true for two-to-three-foot-long pockets behind rocks, which you will find all over Eagle Creek.
The creek lends itself to a variety of tactics. For fly fishermen it is mostly an egg pattern and indicator show; target all deeper holes and pocket water, and make sure you are wearing polarized glasses, because you can often spot fish.
For gear anglers, all methods will work depending on which type of water you are targeting. Eagle Creek fishes best 16-24 hours after a heavy downpour.
Three Rivers: Three Rivers is a small tributary to the Nestucca River on the Central Coast. Limited access and heavy pressure keep this from being one of my favorite rivers.
If you do your research and find access away from the hatchery itself you can get into some very good fishing away from the crowds.
Gnat Creek: Take Highway 30 northwest of Portland to Gnat Creek, one of the smallest streams you'll ever fish for steelhead, and for this reason alone you should probably go give it a try.
It is small enough that sometimes you feel like you could leap across it if you wanted to.
Susceptible to major highs and lows depending on when the last rain was, there is usually a short window when the fishing is best after a good rain.
This creek will definitely test your small stream abilities, and a light touch is a must, but it is a blast to hook into a steelhead-sized fish in a creek no bigger than Fifteenmile Creek where it flows through Dufur.
Sandy River: Traditionally the Sandy was a great early season fishery, but with the advent of brood stock fish it has become more of a February and March gig.
Brood stock steelhead are hatchery raised fish, but they are derived from wild fish, which means they typically return to their natal streams later in the season like wild fish do. This year, however, I would expect the Sandy to start fishing well in January due to all the extra rain we have received so far.
Hood River: The Hood River is a close option that almost always has fish in it. February and March are probably the best months because they use a wild fish to produce their hatchery fish. There are parks at the top and bottom ends for access, but everything in between requires a little hiking.
These are just a few of my favorite early season winter steelhead fisheries. As you can probably tell, I'm biased towards small streams, but there are plenty of other options throughout the western part of the state if you are willing to do a little research. I hope you are able to get out this winter, and remember the big boys of spring are right around the corner.
Questions, comments, opinions? Send Nate an email at nate@flyfishing
deschutes.com.